John McCutcheon performs live-streaming concert Jan. 9 to benefit Modesto Peace/Life Center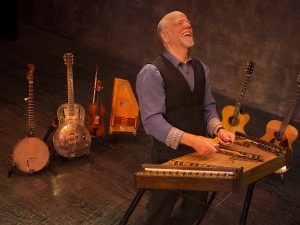 Six-time Grammy nominated folk musician John McCutcheon has been performing a yearly benefit concert for the Peace/Life Center for nearly 20 years. This year the concert will be streaming on Sat., January 9 at 4PM Pacific Standard Time. Johnny Cash called John McCutcheon "the most impressive instrumentalist I've ever heard." John is a master of the guitar, banjo, hammer dulcimer, piano, autoharp and fiddle.
John: "Every January for over thirty years I've been touring in California. It's a family reunion, a gathering of the tribe, a post-holiday celebration, an annual check-in…and a restorative joy for me. I couldn't imagine missing this year. Especially this year. I've been writing up a storm, so there'll be loads of new songs and stories, plus plenty of old favorites. We're gathering the presenting partners who've sponsored me all these years so that they could benefit from these live-streaming concerts, as well.  So please, buy your ticket(s) here since a portion of every ticket sold will help to support the Modesto Peace/Life Center.
https://boxoffice.mandolin.com/collections/john-mccutcheon/products/john-mccutcheons-virtual-left-coast-tour-part-1-19?rfsn=4834484.4f8af3
That way some of the bounty will remain in your community.  It's some of the best kind of recycling.  Thanks for adapting to this New Abnormal.  See you soon…and see you, in person!…in 2022!
Tickets available at three price points to include all guests! Pay what you can."
General Admission: $20
Family / Household: $30
Student Pricing: $10
Unemployed / Laid Off Pricing: $5
Once you buy a ticket, you will need to set up your own account with Mandolin (the live-stream platform that is hosting the concert). You are encouraged to set up that account as soon as you receive your electronic ticket. That will make it easy to log into the concert on the day of the show.
Info: Ken Schroeder 209-480-4576
ModestoView features contributors from our community on a regular basis. We enjoy and welcome these honorary ViewCrew members. If you would like to message them, email to info@modestoview.com