ArtView: April Showers Us With Art
By Jim Christiansen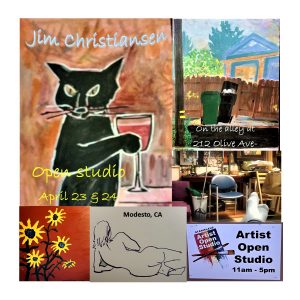 April showers us with art quilts at MJC East and Mistlin Gallery, a new show at Chartreuse Muse. Janet Hardie is at the Kruse-Lucas gallery on Tully Rd, across the street from the MJC Art Gallery, and another Third Thursday Art Walk in Mix. Do not be fooled, art going on in Modesto, as it is also the month of Stanislaus Artist Open Studio weekend, April 23 and 24.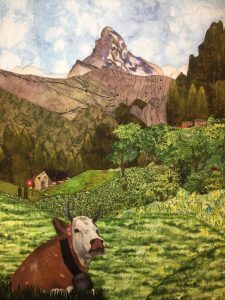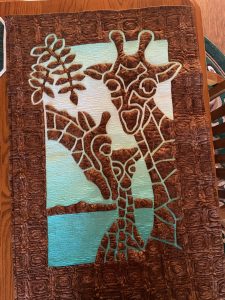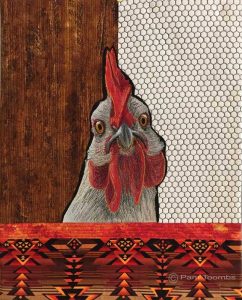 No joke, the Stanislaus Artists Open Studio map booklets are FREE, and the event FREE to attend. Visit online at www.stanislausaos.com and download the pdf version, and while there, hit the links of our sponsors. Richard J. Bradshaw and I are showing at my house near Graceada Park. We are among forty artists featured at 26 locations in Modesto, Oakdale, and Turlock. Tour books have maps to locations, look for the yard signs for directions. Artists in a variety of media, so it helps to plan your visit in advance. Four artists' work was purchased, by the Open Studio Tour, to give away by drawing. Fill out the form and drop off with any AOS artist. Paintings by Rhett Owings, Barbara Gill, multimedia by Richard J Bradshaw, and ceramic piece by Randy Crimmel. Rain or shine, 11 am to 5 pm both days.
April 9th and 10th is the Heart of the Valley Quilt and Textile Show at the ACE Pavilion, MJC West. The event is $10 and put on by the Country Crossroads Quilters of Modesto www.ccqmodesto.com. This will feature traditional, modern and art quilts, a handmade boutique, a raffle quilt and baskets. Saturday 10 am to 5 pm and Sunday 10 am to 4 pm. The largest Quilt Show in the Valley will feature Alex Anderson, host of the www.TheQuiltshow.com
Quilts 2, a traveling show from the SAQA Studio Art Quilt Associates will open at Mistlin Gallery. SAQA founded in 1989 offers exhibits to many galleries, dedicated to promoting the Art Quilt Opening March 29, to April 30, these are stunning Art Quilts. That will brighten the month of April. Mistlin Gallery is also open for classes, the Wednesday Life Drawing sessions, and more events, including in-gallery performances.
Last month my computer was down, so missed promoting the "Cultivate and Garden Show." At the Chartreuse Muse. The theme is springtime and the whimsical allure of a garden Party, inspired by nature. Beautiful show. Featured artists are Nicole Slater, Sandra Veneman, Larisa Stevenson, Don Hall, Anne Whitman, Alli Hudson, Anna Barber, Kate Pethoud, Madison Ewing and Pam Ackles. Stop during the week, or during Art Walk, worth the view.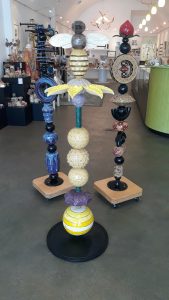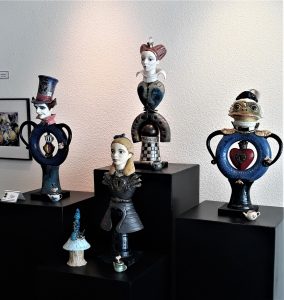 State Theatre, The Farmacy, Dragonfly Art for Life, LoFi, Reform Pilates, E and E Studio, join Mistlin Gallery and the Chartreuse Muse for Third Thursday Art Walk. Look for the yellow balloons on April 21. Peer Recovery Art Project usually open then with Art, crafts and music. Check out the other venues in the Art District, like Picasso's Gourmet Deli and Gallery, Preservation Coffee, Intrinsic Elements, Beads of Contentment, and the Graffiti Murals in the alleys. Dragonfly Art for Life has resumed their Friday music series. Come out and support local artists. Celebrate Earth Day, April 22.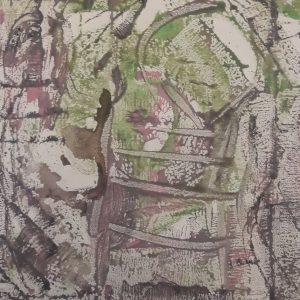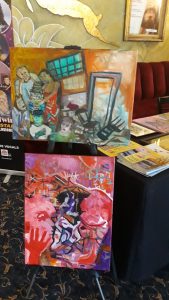 Jim Christiansen, award winning watercolor artist, cartoonist and member of many art groups moved to Modesto in 1977. Born in Riverside, California, and attended University of California, Riverside. Jim often shows around Modesto, does a poster or two, and has been host of the art walk events at State Theatre and Jax on H. Jim has been writing the art notes column several years for Modesto View.