GeekView: Mark Your Calendars
By Middagh Goodwin
April is not a month you normally would think would be packed full of geeky fun, but this year you would be wrong. Rogue One and the Original Star Wars Trilogy will be on the big screen once again at The State at the end of the month with multiple screenings to accommodate everyone, April 30th-May 2nd. Also at the State this month on April 17th you can catch the Monty Python classic Holy Grail.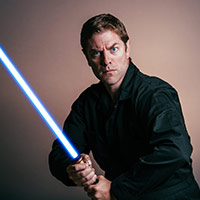 Those alone make for a fairly epic month of geekiness but wait there is more(there is always more right.) On April 30th at Gallo Center for the Arts you will have two chances to catch the highly energetic and entertaining, One Man Star Wars Trilogy officially endorsed by Lucasfilm. The result of Charles Ross's "misspent youth" is the creation of this hilarious performance, where Ross single-handedly plays all the characters with spot-on voice impressions, sings the music, flies the ships, fights the battles, and condenses the plot of three films into one hilarious romp.
After all that intergalactic Star Wars fun you will be primed and ready for May 4th Star Wars Day in downtown Modesto. Modesto was the first city to proclaim May the 4th as Star Wars Day and we have been celebrating ever since. We have invited the 501st, the Mandolorian Mercs, the Rebel Legion and the rest of the Star Wars fan clubs to join us in the heart of George Lucas's hometown to celebrate. So dress up bring your light sabre and maybe you will find the droids you are looking for on May 4th 5-9 pm in the 10th Street Plaza.
Also on the big screen in April you can catch Morbius on April 1st, Sonic the Hedgehog 2 on April 8th, Fantastic Beast: The Secrets of Dumbledore on April 15th all can be seen at Brenden Theatre.
Make plans to join us for the return of Graffiti-Con where pop culture meets subculture at the Graffiti USA Classic Car Museum on Sunday, June 26th 10 am-5 pm. Graffiti-Con is where your love for classic cars, sci-fi and all things geeky comes together in one amazing day of fun. With tons of vendors selling, comics, toys, collectables and more. There will also be several comic book creators who have worked with every major publisher along with actors from Star Wars, Gremlins, Power Rangers and more. Follow @graffiticon209 on social media for more updates
Middagh Goodwin LIVES Music. He has been booking and promoting Music, Art, and Comedy in the Central Valley for years. He ran the award-winning Plea for Peace Center in Stockton for 5 Years and has booked bands from A-Z. In addition, he is the managing editor of ModestoView and writes the MAMAView and GeekView. Middagh works with the Modesto Area Music Association and books Music in the Plaza. In addition, he owns and operates Graffiti-Con, where cars and pop culture intersects. More recently, Middagh has been working with the Graffiti USA Classic Car Museum, helping to create unique events that help raise funds and awareness of the museum and its mission. On top of that, you can tune into one of two shows that Middagh Goodwin hosts on KCBP 95.5 FM; This is SKA and MAMA Radio.