Art View: May Day
By Jim Christiansen
May Day brings more flowers and good news than alarm bells this year, as venues and events starting to bloom and open. Summer class registration and schedules going at Chartreuse Muse, Dragonfly Art for Life, Queen Bean, Mistlin Gallery and the Carnegie Arts Center in Turlock. Kaila Kindley is hosting classes and demonstration sessions at MoCon Theater and Gallery on Tenth and E Streets In painting, music and theater. Peer Recovery Art Project gallery hosting open hours during the week, and some music offerings to go with the Art. I had a chance to drop in and chat with John Black and take some photos of their new location as open Tuesday when many of the other locations closed. Mistlin Gallery is currently open Thursdays through Saturday. Chartreuse Muse still on their Saturday afternoon open schedule.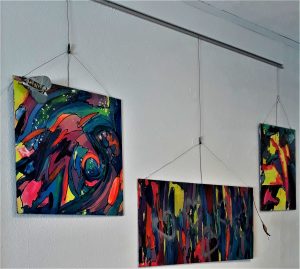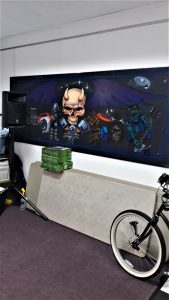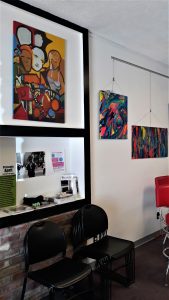 One of the Topics I had with JB is when does Art Walk re-open. I had a similar question from Vicki Reid at Mistlin Gallery and other artists. I don't have an actual answer to that, but from the interested attendance at Art Skulk 2 last month, and the art hanging possibilities in the new restaurant parklet locations, this popular activity could make a comeback.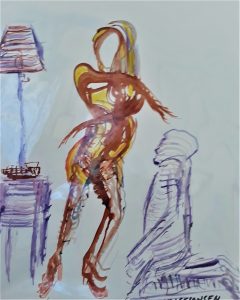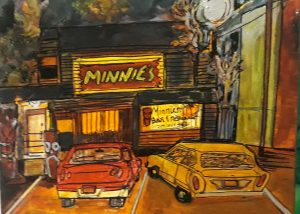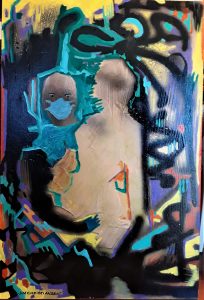 Another frequent question directed to me this month. When is Stanislaus Artists Open Studio 2021 going to happen? This should be resolved by the end of this month, on whether the proposed dates for mid-October viable to the participating artists. I am optimistic and went back to reorganizing and finishing my studio space on the alley near Graceada Park to do just that. I may open for some Open Studio weekends by invitation as early as this month, and moreover the summer. Other artists may do the same and I hope to have notifications in next month's column. Art Skulk hosts on Sycamore Avenue think another neighborhood event may come up soon.
New murals in the neighborhood at PJ's Market at High Street and Morris Avenue. Not sure who the artists are, but in process of transforming the site into a colorful grouping of more art on the walls.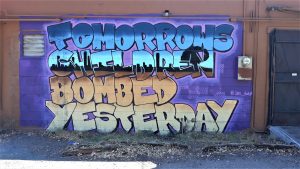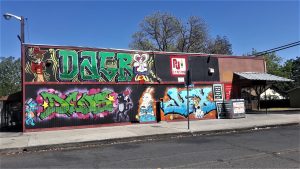 New shows opening this month are Art in the Age of Covid at Mistlin Gallery. Original works were done during the pandemic. Like so many 2020 exhibitions, these Members show rescheduled from last August. I have a couple of works going up in this one. Valley Suncatchers will collaborate on a plein air pairs show in June. Each pair will hang a study and larger finished work from painting scene from life. Anne Whitman art will replace Valentino Alexander art at Barkin Dog Grill.
Life Drawing continues at Mistlin Gallery Wednesday nights from 7 to 9 pm with a live model for $10.
Kruse Lucas Art Gallery is hosting a Graffiti Car Art Show to celebrate the return to the Graffiti Parade and Car Show. The exhibit will feature the artworks of regional artists Carolyn Huff, Rhett Regina Owings and Tony Pooler. The three artists each work in different mediums from digital art, oils to watercolor. The show will be on exhibit in June, July and August. Kruse Lucas Art Gallery is located at 525 Tully Road, Modesto with hours Monday – Friday 9:00 am – 5:00 pm except for holidays. The current show is a continuation of this month of watercolors by Barbara Gill Salerno.
Jim Christiansen, award winning watercolor artist, cartoonist and member of many art groups moved to Modesto in 1977. Born in Riverside, California, and attended University of California, Riverside. Jim often shows around Modesto, does a poster or two, and has been host of the art walk events at State Theatre and Jax on H. Jim has been writing the art notes column several years for Modesto View.