by Monica Barber
The afternoon sky is a mix of sun and clouds as this day lights up with color. It's on the trees, the flowers and in the leaves strewn across the ground. Ms. M finds herself fortunate enough to be able to enjoy to soak up the colors during this season preparing for cold. The season of jolly is right around the corner but it's that time of year to find your gratitude and share your blessings with those around. There's a little give in the cost of living to enjoy and share this season.
Start your engines and speed off into the month off with some fun and donate to a great cause at Modesto RC Raceway's Cans for a Cause Food Donation event on November 3rd. This annual cans race helps to provide food for families in need for Thanksgiving. Every non-perishable item donated knocks $1 off your entry to race. Items for a Thanksgiving meal are preferred but donate what you can and make sure your items are not expired. The event hopes to feed as many families as possible. Gates open at 10am. Races at Noon. Fees $20/10 or  (1 class 10 food items and each additional 5 food items) More info: https://www.facebook.com/events/247851122529342/
In the rush of the busiest season of the year we often forget to stop and enjoy the beautiful things the world has to offer. On November 17th take a moment to appreciate and encourage the youth performers of the Ballet de Frank Zapta as they present Fiesta Folklorica from 3pm-5pm on the East Campus of Modesto Junior College. Tickets at Box Office. Prices: Students: $8 Adults: $15. Info: https://www.facebook.com/events/252810722083740/permalink/252811035417042/
The Great Thanksgiving Bundle up is back and a wonderful time to join forces as a community to help those neighbors and loved ones in need. Annually, the Modesto Gospel Mission serves a traditional Thanksgiving meal the disadvantaged men, women and children in our area. On November 21st, at 2pm they continue this tradition of providing a free Thanksgiving dinner and free warm winter wear to the homeless community. To donate, volunteer or refer a person in need contact Modesto Gospel Mission. 1400 Yosemite Blvd. Info: (209) 529-8259. www.modestogospelmission.org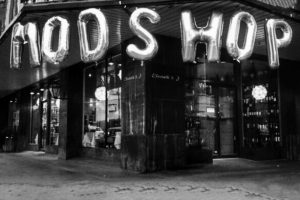 Welcome back Modshop! Modesto's favorite craft and grab tradition is back November 24th and better than ever. Come and shop local on Small Business Saturday and remember you are supporting your friendly neighborhood crafters, artists and designers with every dollar you spend. Don't forget to grab a warm apple cider or hot chocolate while you shop and listen to great music from 5pm-9pm in Downtown Modesto on J Street. Info: http://www.modshop209.com/
Happy Thanksgiving! Enjoy! Kisses, m.