Big Earl Matthews
Hello Friends and welcome to November. There are some pretty cool events coming up this month so let's talk about it. It's not blues but its still pretty cool, WAR is coming to the Tracy Grand on Nov 2nd. Classic tunes and more groove then one man can handle. On the 4th is the Knights Ferry Pumpkin Roll and I will be there with the Poorhouse Millionaires at the Knights Ferry Saloon for the afterparty.
If you like your blues with some gospel you can head over to the Ceres Christian Church our on Roeding Rd got dinner and music with the Sonhouse Blues and Gospel Band. You can catch Tony and the Tuff Times at the Barking do at The Barkin' Dog on the 10th. Also on the 10th, I will be at FIred Up Grill with the Poorhouse Millionaires.
I am hosting 2 Blues Jams this Month, on the 14th at Nino's and on the 28th at Fired Up Grill.
On the 15th We are Bringing back the Ramble to the Fired up Grill. Our first acts will be Mattea Overstreet, Cole Hinkle and Tiffany Rose. I'm pretty excited, I can't lie.
You have another chance to check out Tony and the Tuff Times out in Stockton at Whirlow's on the 17th. On the 23 and 24th Jeramy Norris and the Dangerous Mood will be up at the Iron Door in Groveland. Always worth the trip.
If you want to see just how far you can take the blues on the guitar I recommend checking out Joe Bonamassa at the Bob Hope Theater in Stockton. He is one of the biggest blues acts on the planet and it's an amazing room. I have always been blown away by what a gem of a venue it really is.
That's all I have for you in November. As always I hope to see you out at a show.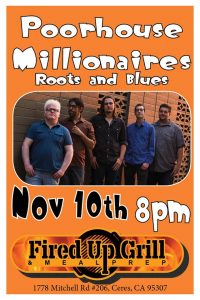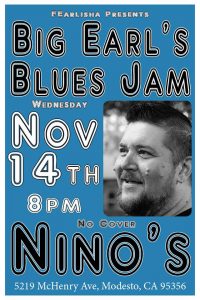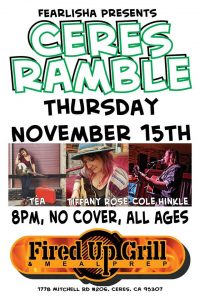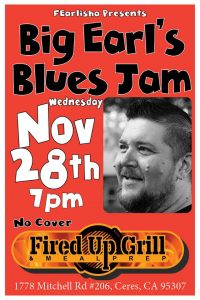 About the Author: BigEarl