BargainView: May Love
By Monica Barber
There are plenty of reasons to love May. It's the start of summer, flowers are blooming, and you can finally begin entertaining outdoors again without worry again. May ushers in the warmer months with fun holidays and food days, from Cinco de Mayo to Mother's Day. Ms M is enjoying the change in the neighborhood and realizes now as things are slowly opening, it's best to get out and enjoy them again. Here are a few things you might enjoy checking out while saving some change.
Let's play ball! The Modesto Nuts are welcoming the Stockton Ports on May 4th to kick off their season for opening night! For those who missed watching baseball, this is a wonderful opportunity to get out of the house and support our local team. There will be a mask giveaway for attendees and tickets will be sold in pods of 2 and 4 with social distancing protocols in place. Tickets: $8-$11. Info: https://www.milb.com/modesto/schedule/2021-05
Live music is a must in Modesto. Weekly Thursday evenings you can enjoy the sounds of David Dow Jazz Jam Band at Ralston's Goat while you enjoy dinner or a snack. On May 6th, from 7 pm to 10 pm, let yourself take in a delightful jam session with some of the area's best musicians. Social distancing protocols are in place for a safe time. Info: https://fb.me/e/1EsRHlF4g
Calling all book lovers, the Modesto Library is open for your reading pleasure. Newly relaxed pandemic protocols have allowed for the opening of a beloved local treasure. Don your favorite mask, stop in and say hello to the fish while you look for the latest must-read books on your list. In addition to new books try out their new self-service kiosks for checkouts, paying fines and more. Pick up a library card, if you don't have only have one for free. They are useable at all 13 branches in the county. 16th and I sts., Info: 209-558-7800. http://www.stanislauslibrary.org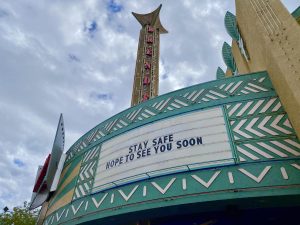 While not everything is accessible in person, things continuing to move ahead. Moviegoers can rejoice because it's time to catch a flick in person. If buying popcorn and a soda before watching the newest movie, is something that you have missed for quite some time, you don't' have to wait anymore. You can take in a movie at Brenden Theaters with social distancing protocols. Tickets can be reserved online or at the door. Info: www.brendentheatres.com or at the State Theatre www.thestate.com
Step out and enjoy a little fresh air, Modesto. Kisses, M.
Middagh Goodwin LIVES Music. He has been booking and promoting Music, Art and Comedy for years in the Central Valley. He ran the award winning Plea for Peace Center in Stockton for 5 Years and has booked bands from A-Z. Middagh is beginning 2016 with a new position at the Gallo Center for the Arts and celebrating Beat Happy! Music's 30th Anniversary. Read the MAMAView every month and a the Needle Drop 52 Records 52 Weeks.