The BigView
By Chris Murphy
This is a big world and Modesto USA is a Classic American City. Yep that's what we are, we have the best of both worlds, our small town community feel and the amenities of a big city and as a bonus, we are close to two of the most beautiful places in the world; Yosemite National Park and San Francisco. In fact, you can virtually draw a line from SFO to YOS and MOD is right in the middle. In fact, you can even see Half Dome on a clear day from Modesto. Not only that, you can drive on the John Muir Highway 132 through Modesto to head into the mountains.   Cool huh? Every person that visits should walk the Modesto Cruise Route, check out the huge Royal Robbins mural on Camp 4 Wine Café, take in a show and enjoy an amazing dinner & cocktail and spend a restful night. So let's celebrate our big outdoors and many of the things that make visiting Modesto a really great time.
SFO – One of the world's best cities
The Great Outdoors begins at the ocean and goes to the mountains. Nearly every good trip starts or ends in San Francisco, where the smells of sourdough and crab are the same since the Gold Rush and you can still find places that still have character like The Saloon, City Lights, Tonga Room or Alioto's. Much to explore.
MOD- A Classic American City
With our great classic history; Modesto USA is the place to stay. Rolling in and after checking in, spend the afternoon snacking at Camp4, take in the huge Royal Robbins mural celebrating Modesto's hometown hero, walk the Modesto Historic Cruise Route on the legendary 10th and 11th Streets of the original cruise, check out our classic downtown murals, enjoy a craft cocktail on a patio. Then you can grab a dinner at one of our many amazing locally owned restaurants and then catch a show at the Gallo Center, or a movie at the classic State Theatre or the Brenden. So much to do. Then on the way out,  you are set to check out Lucas Plaza and drive by the Gallo Winery on the way to Yosemite on the John Muir Highway 132.
YOS- Go Climb A Rock
Yosemite is absolutely stunning right now. We had so much fun creating out cover as we are inspired by our amazing location to Yosemite, one of the most beautiful places on THE PLANET. The waterfall are thumping this summer which is a rarity. The mist trail up to Vernal Falls is wet and the snowmelt is expected to keep going for a while. It's true that the crowds are tough, but once you are in there are places where it is amazing. The 4-Mile trail from Bridalveil Falls to Glacier Point is always a winner and doesn't require a back-country permit. There is a lottery system to get a permit for Half Dome that you can apply for the day before. But no matter what time of year you go, it is always amazing. Out of protest, I still call the Ahwahnee Hotel the Ahwahnee and it is still Curry Village, and everyone knows what you mean. Having a cocktail on the patio there staring up at Glacier Point and Half Dome is an essential. Get up and get in early, enjoy the park and rent a bike. Make sure to wear your rock scrambling shoes and be prepared to get wet.  (Update 2020, the Ahwahnee and the park areas have their original names back)
For camping and hotels: www.travelyosemite.com
To apply for a lottery Half Dome permit, visit Recreation.gov or call 877/444-6777 from 7 am – 9 pm PST There are a lot of cancellations.
Here a more cool things to do here in the 209
Stay Cool 209!
There are a few ways to beat the heat this summer. Even though our nights get a breeze, you need to take care during the day. Please remember to stay hydrated and that does the most. There are many things to do in nice cool air conditioning like checking out a movie at the State or the Brenden, or finding your inner Royal Robbins at Stonehenge Climbing, but being outdoors is the best. Take advantage of a restaurant's covered patio and when you bike along the trails, there are many tree-covered places to take a break. But here are some fun destinations to enjoy some wetness.
Let's Swim
The pool at Graceada Park is open again thanks to the dedication and teamwork of the Barber family, Leadership Modesto, CANA and the City of Modesto. There is also a community pool in Empire that teaches water safety as well as a community pool at the Salvation Army Red Center and splash it up this summer. But please, stay out of the canals and the fast water in the rivers. It doesn't end well.
Let's Splash
Sometimes all you need is a splash to freshen up your or your kids' day. There are 7 Splash Pads in Modesto and the newest has just opened in Graceada Park that will make it a fun day. There is a splash zone on the Virginia Corridor too. Take the kids and run through and have fun and stay cool. www.modestogov.com/543/Splash-Grounds
Let's Raft
This year is a dream date for running the rivers. The Stanislaus River has some of the best white water rafting for both the expert and the family level rafters. There are two main areas of rafting, above or below Knights Ferry. The wild river is really running this year and there are some Class I and II to white-knuckle rapids. There are some mellower trips too and for most, some plain old fun float trips. These are all easy to get to, both to start and to get out of the water. Please make sure that you raft these rivers with an expert. Even if the water looks calm, it isn't. Enjoy the fun and raft to your ability.
Here are the local rafting companies that will get you all hooked up, whether you go as a single, couple, family or group, there is something for everyone. Some even have raft and camping options so you can make a trip out of it.
River Journey Adventures www.riverjourney.com/
Sunshine Raft Company www.raftadventure.com/
Knights Ferry Rafting www.knightsferryrafting.com/
For rafting the North Fork of the Stanislaus Class IV+ www.oars.com
Stay Cool
It is important to not only look cool, but to actually be physically cool. It is great to get out there and run, ride and play but make sure you stay hydrated. It is funny, but longer sleeves actually keep you cooler.
Stay Hydrated
Eat more & smaller meals
Close the shades in your house during the day
Soak your feet in cold water
Drink water or sports drinks with electrolytes, not soda
Wear loose fitting cotton clothes in light colors
More Info:
Cooling Centers in the area – www.stanoes.com/pdf/extreme-heat-plan.pdf
City of Modesto Activity Guide: www.modestogov.com/483/Activity-Guide
Sundays in Graceada
Modesto Sundays are getting busy. There are so many downtown dining options brunch and the bike trails are busy and now there are great new activities for families and kids in Graceada Park. Thanks to the hard work of the College Area Neighborhood Association (CANA) Graceada Park is better than ever, new upgraded pool and splash pads and Sunday activities for kids. Don't miss out on these great resources. Hopefully it will get so successful it may expand to other parks.
www.facebook.com/sundaysingraceada/
Help Build a Park
East LaLoma Park had it's playground removed a few years ago. Along with it, the families left too. We need safe places for our families to be, play and enjoy and the more people that are in our public spaces, the safer it is. Please make a donation or volunteer to help build this park. You can donate online at www.gofundme.com/la-loma-neighborhood-improvements and learn more at www.gofundme.com/la-loma-neighborhood-improvements
PUBLIC SERVICE
Fireworks and the great outdoors do not mix.
Please do not blow up illegal fireworks, no matter how cool you think it is.
California is loaded with brush from our wet spring and it will end badly and even metro cities can go up in flames.
Thank you for not burning California
Find out so much more at www.modestoview.com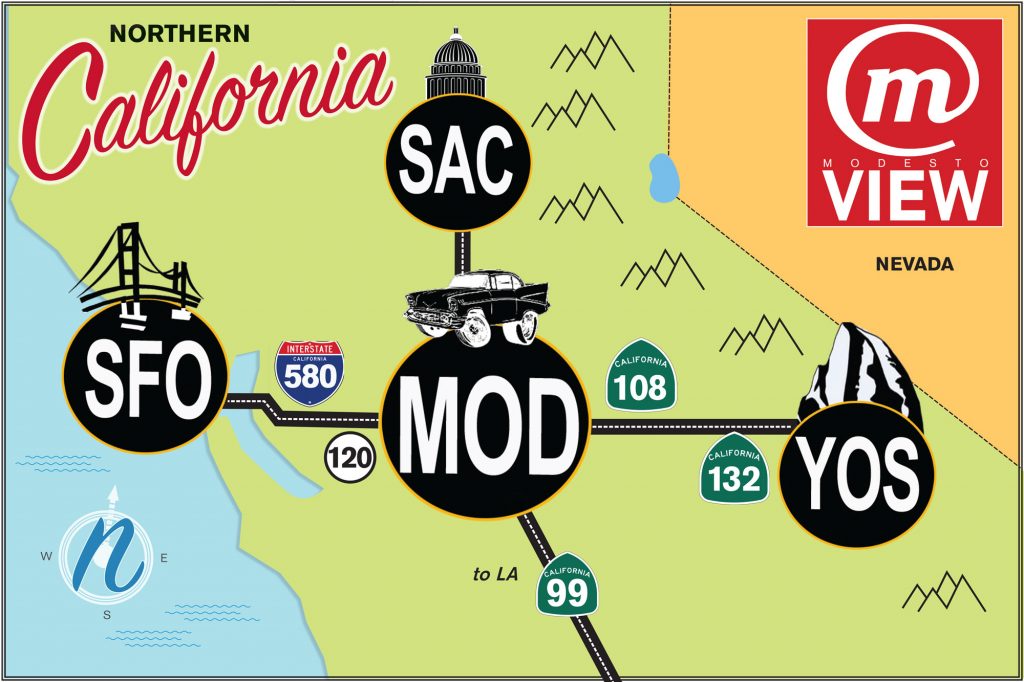 Comments
comments
Chris Murphy is the President and CEO of Sierra Pacific Warehouse Group and Publisher and Founder of ModestoView Inc. Chris worked globally in the cycling industry returning to Modesto in 1996. He is also the founder of the Modesto Historic Graffiti Cruise Route, Legends of the Cruise Walk of Fame, Modesto Rockin' Holiday, the Modesto Music History Organization and co-founder of the Modesto Area Music Association. Chris is married to his artist wife Rebecca since 1985 and has two daughters Madison and Abigail, both graduating from Modesto High and UC Berkeley. He is lead singer and guitarist for his band, Third Party that donates their performances to non-profits.