Blame the Flame Candle Co. Workshop Plus Libations
By Brandilyn Mitchell

I know you have heard of 18Seventy Brewing and their slushies because we have bragged about them before. But visiting them for a slushie and to make a candle at the same time? It's a crafters dream come true-craft brew and craft scents!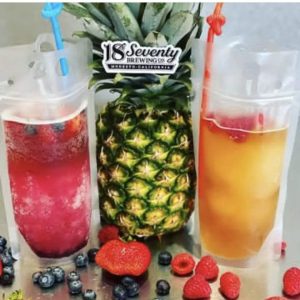 Blame the Flame Candle Company hosts pop-up events called  "The Candle Creation Station". Owner Esparanza Vargas helps you create your own (and very personalized) scented candle. These unique pop-ups offer a delightful fusion of creativity with relaxation for a unique kind of fun. Esparanza will walk you through all the notes she offers: vanilla, caramel, lavender, ocean, fresh linen, mahogany, mint mojito and more-these oils will be your "potion ingredients" when mixing the harmonious fragrance for your candle.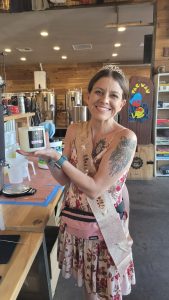 Her workshops are laid-back. There's no general instruction or hardcore agenda, as she will take ticket holders a few at a time and walk them through everything. So if you can't be on-time, that's ok! Trickling in actually works well for the station. Just be mindful that it will take upwards of 2 hours for your candle to cool, so be prepared to hang out in the brewery and kick back a few pints (or maybe eat dinner nearby) and pick up your candle when it's ready.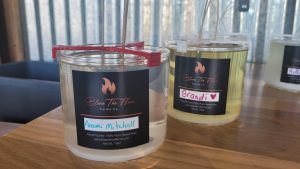 The first thing you will do is write your name on a Blame the Flame sticker. Or maybe not your name, but the name of the person you are gifting it to, or a catchy scent name you just created, or whatever else you want on it! Then you'll put on gloves and start smelling delicious scents. I decided to do a combo of the coffee with white chocolate. Something sweet but perky for my office. Then you will measure our your fragrances. Esparanza will hand you a large measuring cup for your melted wax, and you'll pour that next. You'll combine everything and stir, stir, stir. "How did you come up with the idea for the station?" I asked. "My fiancee Paul did, actually. We wanted something like Build-A-Bear for adults." Ooooh yeah, definitely-alluring scents, fire and beer? Few combinations are more exciting than that. I can't think of anything to add aside from maybe music and s'mores! (And you can get s'mores to roast at her Creation Station hosted by The Terrace on July 8th.) Mint Mojito is her seasonal favorite, and is also the best seller right now. It's a very clean, refreshing, likable scent. Even my husband who hates mint said it smelled yummy, so that's your sign: her candles are for everyone and you are sure to find your new favorite scent in her line-up.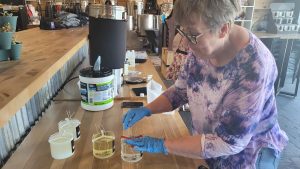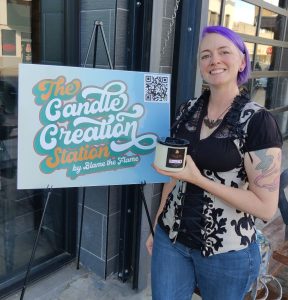 MV: How did you get into the world of candle making?
EV: Both Paul and my pup, a German shepherd named Apawllo, are both sensitive to smells. But I had enjoyed candles and scents from a young age. I noticed my candles would make Apawllo's nose run and I thought there MUST be something better I can use and started researching to make my own eco-friendly, safer candles with less ingredients.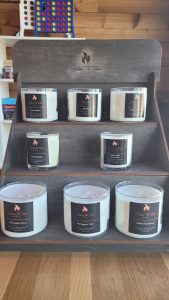 MV: And you loved it so much it became your business?
EV: I hope to! I work in dialysis, and it's very rewarding work and I love it, but during covid- it was very draining and I needed an outlet, a hobby. I really dove into candles- doing more with them and trying different waxes. That's how I found the wax I use now. It's more sustainable, burns cleaner, and dries so smooth. There are no clumps or bubbles in it. Paul owns his own business and using his expertise we launched and I would love to make this my full-time job.

That was one of things I noticed about her candles: how smooth the wax was, so easy to mix, pour and dry. It does all the work itself. This workshop was easy and fun, and you have your very own candle at the end of it! There is a scent for every one, and every occasion. You too can make a candle and drink some libations at her upcoming Creation Stations:

5Eye Brewing (Ceres) on 6/22
Grains of Virtue (Oakdale) on 6/24
The Terrace (Modesto) on 7/8
Tapped Apple Cider (Salida) on 7/16
(Upcoming Dying Breed Brewing TBD-Follow her Facebook for details.)
To purchase tickets to her events go here.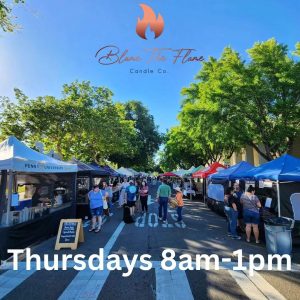 You can also visit her booth at the Modesto Certified Farmers Market on Thursdays and the Sunday Market in Turlock. There is a recycling program coming soon, where you will get 15% off your next candle if you bring her your empty glass. She also makes wax melts and sprays.
https://www.blametheflame.com/
Bring on the rain, and a bottle of Wonky & Wry's Honey Braggot Ale. Loves to roast marshmallows over a fire.