BluesView: Dig the Blues
By Earl Mathews
Hello friends, there is so much happening this month in our area and my world. Let's dig in. Robert Cray is coming to town on the 8th, and he will be at the Tracy Grand again. He's one of my favorite songwriters and one hell of a musician.

On the 9th We are bringing a big show to the Motherlode Fairgrounds called the Veterans Day Weekend Blues Bash. We will have food, booze and a few great bands. From Fresno, we have Rip Kat Record's own John Clifton Blues Band. From Modesto, we have Bluesbox Bayou Band and from the grater Stanislaus county area My band Gravel & Grace. This is an all-ages event and it's going to be in the big hall so don't worry if it's cold outside. We will be indoors.

The High St. Blues Band is hosting a new blues jam at Ralston's Goat on the 12th. It's an open jam so come out and sign up to play. Gravel & Grace is Playing at Churchkey on the 12th for the first time. Then on the 29th and 30th, you can check out Jeramy Norris & The Dangerous Mood at the Iron Door in Groveland.

Now to tell you about the exciting things going on in Big Earl land. I am super excited to announce that I am going on a small tour with Gravel & Grace this month to Alabama, Mississippi and Tennessee. I'll be gone for ten days, and I can't wait for the adventure. This is our first tour as a band. We are already working on future tours. Cole Hinkle and the Debauchery are joining us on the tour. Please follow us on Ava Grace Music to see our tour progress and videos.

Huge congratulations to all the MAMA winners and especially to the blues category winners Gary Gervase & Kickstart Blues Band. Truly a great band.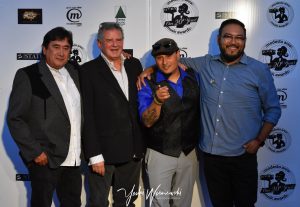 Comments
comments
About the Author: BigEarl