BrewView
: Being a Smart Axe
By Middagh Goodwin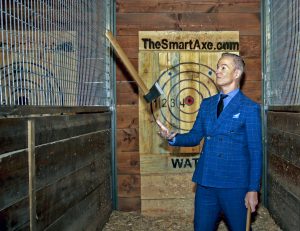 Have you ever wanted to drink a beer hang out with friends and throw an axe in the comfort and security of the indoors? Well, you are in luck, you can do just that at the Smart Axe, Modesto's only and Northern California's premier axe throwing experience.

They have 3 beers on tap Cali Squeeze, Michelob Ultra, Lost Coast Hazy IPA and a Washington Apple Cider along with various canned beverages including hard seltzer. They have a variety of snacks and you are more than welcome to bring your own food or have it delivered. Smart Axe has 15 lanes to throw on with league nights taking place on Mondays. You are also welcome to bring your own axes but they must be approved.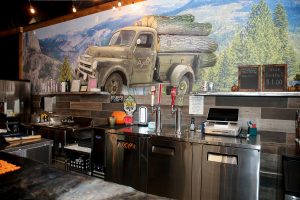 TVs Mark S Allen is one of the owners of Smart Axe and he took the time to talk to us about how things all got started and how Smart Axe became the fastest-growing axe-throwing bar in Northern California.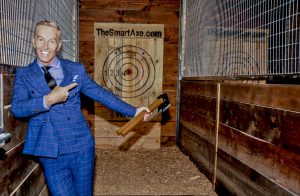 MV: What inspired you to open up an axe-throwing bar in Modesto.
MA: One of my best friends on the planet is Doug Link, he runs and owns an Imax Theatre and he called me from New York City and said you won't believe where I am, I'm in a bar throwing an axe and there is a line around the block, I have never had so much fun, want to do it. I said I am in and we formed the Smart Axe on that day.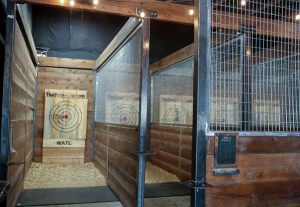 MA: And you are kind of a Smart Axe.
MV: A little bit, that is the funny thing about it, we put all these funny names with axe in the title in a hat so my three partners and I had an equal shot of getting our name picked. I had "Axe Hole" and that was rejected and all these others, but they pulled Smart Axe out of the hat.
MV: What is your demographic coming in to throw?
MA: It is funny that you ask that because most people would expect it to be guys like us, guys who would throw axes at trees. But we have more females 18-24 coming in coming in than any other demo.
MV: You have league nights every Monday.
MA: That's true, we are a part of the World Axe Throwing League. Very quickly when this sport started taking off in Canada and then North America they formed an international league so it is all regulated. We are a member of that and have certified league events quarterly.
MV: Other than Modesto how many locations do you have and where are they located?
MA: This is one of six locations, we are the largest California owned and operated chain of Axe throwing bars. Our flagship is in Sunrise and 50 where we were born and survived the pandemic, Folsom on Historic Sutter Street, Roseville, Fairfield and Davis opening up in early November.
MV: Thanks for bringing Smart Axe to Modesto.
MA: No lie, I was talking to our manager Tiffany on the way up here, and our biggest numbers, our strongest numbers are in Modesto.
MV: The ModestoView Question, Beatles or the Rolling Stones?
MA: I am a Beatle guy through and through but I am conflicted. Who is the best Beatle?
MV: I am a fan of Ringo.
MA: I am a fan of Pete Best.
Experience the best axe throwing in Modesto with us at The Smart Axe! If you want to make new friends and become an axe-throwing legend, join our Axe Throwing League! Reserve your target today.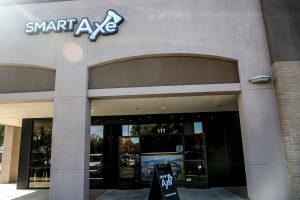 Smart Axe
3020 Floyd Ave. Suite 117
Modesto CA 95355
www.thesmartaxe.com/
209-408-8345
Mon-Thur 3 pm-close
Fri   2:30 pm- Close
Sat/Sun 11 am – Close
The last reservation slot is at 9:30 PM
Ages 12 and older(12-17 must be accompanied by an adult)
Reservations 
Shannon@thesmartaxe.com
Middagh Goodwin LIVES Music. He has been booking and promoting Music, Art, and Comedy in the Central Valley for years. He ran the award-winning Plea for Peace Center in Stockton for 5 Years and has booked bands from A-Z. In addition, he is the managing editor of ModestoView and writes the MAMAView and GeekView. Middagh works with the Modesto Area Music Association and books Music in the Plaza. In addition, he owns and operates Graffiti-Con, where cars and pop culture intersects. More recently, Middagh has been working with the Graffiti USA Classic Car Museum, helping to create unique events that help raise funds and awareness of the museum and its mission. On top of that, you can tune into one of two shows that Middagh Goodwin hosts on KCBP 95.5 FM; This is SKA and MAMA Radio.