Culture Coffee Bar: A Mobile Community
By Brandilyn Brown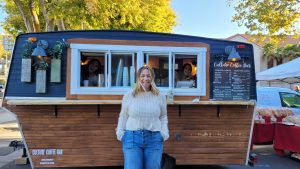 Ah November, a month we love to focus on community….ModShop, Small Business Saturday, being thankful, paying it forward, and getting loved ones together over home-cooked meals. You are probably shopping at the Modesto Farmers Market frequently this month in preparation for all the cooking and eating, and if so, then you've seen the cute coffee trailer always parked near I Street, the Culture Coffee Bar. And if you're anything like me, you buy your coffee first to warm you up before you go purchase a loaf of Edith's Zucchini bread, a Bloomingcamp Ranch berry cream pie, a bottle of Ranch seasoning from Girl vs. Garden for your favorite chicken dish, a piping hot ready-to-eat bowl for lunch from Foxwood, a sourdough salted chocolate chip cookie from MatKat to surprise your daughter, and a plethora of produce from J & J Ramos Farms.

Owner Jamie Griswold worked at Get Fit on Mchenry for many years before feeling like she had reached her maximum potential there and wanted something more challenging. Wanting to stay in close proximity to the Get Fit community she loved, she wondered what she could do and how she could continue to grow that feeling of community in Modesto, and bring it to a larger audience. She loves Modesto, and all its people, and wanted her community members to be seen and heard. To have a place they felt they belonged and enjoy each other's company. Driving around town and admiring our murals, she realized she never saw a coffee cart anywhere. Her and her husband love to travel and would spend time on their trips in small local coffee shops connecting with themselves and others, and Jamie loved the idea of making that sense of community mobile. She broached the topic with her husband who was easily converted to the idea, and in December 2017 they signed a contract to have the iconic Culture Coffee Bar trailer built.

While they waited, Jamie started creating recipes for drinks. She served cold brew out of Get Fit to test recipes, make connections, and hopefully get an income coming in. The Chocolate Cinnamon Buff Brew was the first creation to reach the public. It's a protein coffee whose taste completely rivals (dare I say "obliterates"?) the famous Bang Keto Coffee drinks. 
Now she's serving up three Buff Brews: the first Chocolate Cinnamon, as well as Snickerdoodle and Chocolate Peanut Butter.
Culture serves both hot and cold drinks, and if you're specifically looking for a drink that screams "It's finally autumn!" try the Salted Maple Latte; it's my favorite hot beverage on the menu.  For your littles or non-caffeine consumers, try the sodas! My daughter loves the orange cream in summer, but in winter always goes for the hot vanilla steamer. They often carry gluten free and vegan donuts too, from Boho Buttercream.
While Jamie is certainly succeeding in creating that sense of community she craves with the mobile bar (She greeted two customers by name while I was there! Talk about "being seen"!), a more concrete community is the direction she wants to go. A Culture Coffee Bar storefront will open in January, next to Get Fit at 2801 McHenry Ave. So you'll be able to get your favorite cup o' joe alongside a breakfast sandwich or pastry, and hang out as long as you want- to chat with that loved one you wanted to catch up with, or work on that paper that is due, or read a few chapters in that book you have been meaning to finish. While Jamie sipped on her iced Americano (her favorite item on the menu!) I asked if there was a coffee that inspired the whole journey. She chuckled and shook her head no. "It wasn't coffee that inspired me-I love coffee, but it was a catalyst to create the sense of community I craved. I want community, Modesto needs community, and I wanted to create some. I encourage anyone who sees a lack here to fill the need. Make Modesto the place you want it to be. Anyone can do it! Never give up, go for your dreams. Don't be at the end of your life thinking you wished you would've done that one important thing; if you want something, make it happen. You CAN do it!"  
I was honored to enjoy that sense of community that she nurtures sharing a lovingly-made cup of coffee with her. And I think you will, too. Follow @CultureCoffeeBar on Instagram for updates, amazing coffee photos that will make you get in the car and head down to the mobile bar with a friend, and news on the new shop. Happy Community November, and as always, sip on friends!
Culture Coffee Bar Schedule:
MON & FRI 7am-12pm next to @getfitmodesto
THURS & SAT 8am-1pm at the @modestofarmersmarket
Bring on the rain, and a bottle of Wonky & Wry's Honey Braggot Ale. Loves to roast marshmallows over a fire.