BrewView GO ROGUE
by Brandilyn Brown and Christopher Mitchell
Rogue Brewing from Newport Oregon, has been taking over the taps at various California BJ's Roadhouses. The Modesto location hosted a beer dinner in their honor on August 20th to "Go Rogue" and we were delighted by the event start to finish.
At only $40 per person (in advance, $45 at the door) this was a steal. The dinner consisted of 6 courses and 8 beers. We were skeptical about a steep $40 price tag until we saw the course sizes. They were nearly full size courses, not small samplers, and each beer was a 4 oz pour. After an appetizer, 4 main dishes, and dessert plus 32 oz of beer, we felt like Violet Beauregarde from Willy Wonka!
We were uncertain when they brought out the starter, which was blistered shishitos and crispy pepperoni paired with the refreshing Hot Tub Scholarship Lager. Who eats blistered hot peppers as a snack?! You must be crazy! But after we each devoured our entire plate, we decided shishitos peppers must be ironically named. Their scoville level must be so low as to not even register on the scoville scale. They tasted like a very mild green bell pepper. The spice of the dish definitely came from the pepperoni.
The sriracha brussel sprouts from the second course contained enough heat to make up for it, though. Thankfully we were able to wash them down with the Rogue 7 Hop IPA. Which is just really cute since Brussel sprouts look a lot like hops!
Since the spicy dishes were paired with neutral, light beer selections, it gently built us up for the third course of BBQ Chicken Salad and Honey Kolsch. The mellow, slightly sweet Kolsch was the yin to the in-your-face BBQ yang. Each equal in its own power, balancing the other out.
After so much flavor, our mouths needed a reprieve, just in time for the palate cleanser Scarecrow Gone Rogue Saison, a collaboration between BJ's and Rogue. Aptly named because this was an earthy woody beer with a touch of elderflower to mellow it. Just like how a scarecrow only looks scary until you see it's painted-on smile, at first this beer tastes a little too dark and woody but then the sweet sneaks up on you and your anxiety goes away. It was JUST a silly scarecrow all along!
Then we dove into some heavy courses. A quinoa bowl with tomatoes, mushrooms and chicken was paired with the Rogue Dead Guy Maibock. This ale, with a very malty profile was balanced with just the right amount of hops. Everything about this pairing said "autumn" to me, down to the seasonal ingredients in the bowl, the herbs on the chicken, the malt of the beer-I wanted to enjoy this in front of my fireplace wrapped in my Stormtrooper snuggie.
To wipe all cornucopias and falling leaves off our mental slate, we were given another palate cleanser, the Combat Wombat. The New England Sour IPA was very citrus forward, simply bursting with grapefruit and blood orange. The sour was so light it was barely classified as one in my opinion. We were so used to eating something with our beer that we picked up a Starburst from the centerpiece and ate it, and by golly, it was the best accidental pairing of the evening. Our table spread the news to other tables and before long, all centerpieces were void of orange and red Starbursts.
Just when we thought the pairings could not get better, BJ's outdid itself by bringing out a double bone-in pork chop smothered in bacon jam and buttery mashed potatoes. It was served with the Hazelnut Brown Necter Ale, a delicious malty delight that danced with the pork in a nutty tango!
We almost missed the last palate cleaner because we were enjoying the pork chops so much. We had to ask for boxes to take most of this plate home! Upon picking up our plates, the hostess filled our glasses with the Marionberry Sour Ale. This was a "real" sour to me-tart and dry, it made your lips pucker.
Two hours after we started this taste bud journey, out came dessert! A chocolate chunk mini pizookie served with Chocolate Stout, a creamy enchanted beer that rivaled the warm soft cookie. It was truly hard to decide which was the better companion of this pair until I dunked a spoonful of the vanilla bean ice cream into the stout. Eureka! The best of both worlds!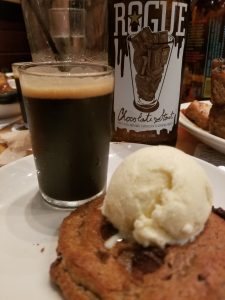 We highly recommended attending any beer dinners in the future, your taste buds (and your wallet) will thank you.
Sip on, friends!
Comments
comments
Bring on the rain, and a bottle of Wonky & Wry's Honey Braggot Ale. Loves to roast marshmallows over a fire. Enjoys the mix of cigars and whiskey.