BrewView: Indigeny Reserve Autumn Festival
By Brandilyn & Christopher Mitchell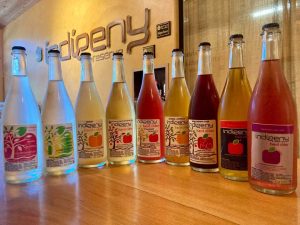 Nestled in the gorgeous woods of Tuolumne County in the city of Sonora, is a barn surrounded by several groves of apple trees. Those groves were purchased by Jay & Judy Watson back when Indigeny Reserve was just an idea. At first, he sold the apples straight from the tree, and soon decided to tap into the cider market with an amazing cider recipe. Their son Joe joined the business as the Orchard Manager. Now it is a national brand, and the barn is an attraction for locals and tourists alike. The barn is complete with a tasting room, gift shop filled to the brim with local vendor's wares and you can even take a tour of the barrel room. Surrounded by picnic tables, outside games for kids, ample parking, tons of shade provided by super old trees, and lush apple groves & grape vines as far as the eye can see. They do full facility tours often, so check their facebook for dates and times.

The name "Indigeny" comes from combining the words "indigenous" and "synergy". The company has thrown themselves into reducing, reusing, recycling and re-purposing as much as they possibly can. They bottle in aluminum cans because aluminum is easy to recycle, and doesn't make a mess if one is dropped on the floor like glass does. It also helps the product last longer, as aluminum keeps out light. The aluminum packing earned them an international design award. Another way they reuse is that during the distilling process, the isoprophyl alcohol pulled out from the Brandy & Vodka is then reused to keep their fermenting tanks cold.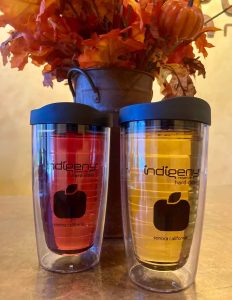 Organic apples create a wax seal on their skin naturally, and this skin allows the apples to stay fresh and sweet 9-10 months in a fridge. Watson's apples are stored, then washed, dried, juiced, filtered and fermented for 3 weeks. The entire process from picked to bottled is about 7 weeks. They grow an average of 11,000 Granny Smiths and 7,000 Honeycrisps annually. 
They currently offer several flavors-some on tap and some in bottles: 
~The Original Crisp cider is made from granny smith apples, and uses champagne yeast for a dry finish. (Also comes in an organic variety!)

~Blackberry is the Crisp recipe with blackberry juice added. Very sweet, smooth and delicious!

~Bubbly Ciderbration is their take on champagne and it's truly elegant.

~The Dark Cherry is so-close to being a sour, it's a "gentle sour" ha!

~They have two seasonals, the Apricot and Summer Peach. Both are delectable! 
~The Harvest Blend is created from a blend of apples grown on 100+ year old trees. It is more mild, and has more sugar, so it is much sweeter on the pallet.

And the favorite of the season is always the Pumpkin! This sells out quickly, so if you like it be sure to buy several bottles and keep it in the fridge for your October, November and December festivities.

And it doesn't stop at cider! They have mastered the art of distilling, too! Their Brandy is aged 3-5 years in used Jack Daniels casks. It is a blend of all cider flavors, then distilled twice to get a clean, fresh finish. It's smooth and delicious! Great on it's own or in a mixed beverage. Limoncello and Orangecello Liquer were recently added to their forte. So even if you prefer cocktails, they have you covered!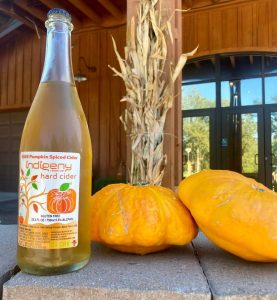 The Annual Autumn Festival is a month-long celebration every Saturday in October from 11am-4pm. There is a $5 parking fee. The pumpkin patch will be open for your autumn produce needs and for your family photo opportunities. Each Saturday will feature a different band, several food trucks, craft vendors, a scarecrow contest, and don't forget the most important aspect: Indigeny is a family friendly venue! There is tons of space for your kids to play and they have musical instruments, a sandbox with construction equipment and hayrides! Get your group together and play the disc golf course. Take a stroll on the hiking trail. Don't miss out and bring some bottles home to enjoy on Halloween!
Oct 7th: Kick off with annual pumpkin & zucchini weigh in
Oct 14th: Blue Oak Band
Oct 21st: McFunky Band
Oct 28th Kris Olsen Band

Something else new that is happening are the Summerland Farm Classes, every Thursday morning from 10am-12pm. $20 a class. October classes are:
Oct 5th: So You Want to be a Homesteader
Oct 12th: Chicken Keeping and Processing
Oct 19th: Climate Change and space challenges in your garden

Sip on, friends!
Indigeny Reserve
14679 Summers Lane, Sonora
Open 7 days a week, 10am-5pm
Bring on the rain, and a bottle of Wonky & Wry's Honey Braggot Ale. Loves to roast marshmallows over a fire.