BrewView: LoFi and Chill
by Christopher Mitchell and Brandilyn Brown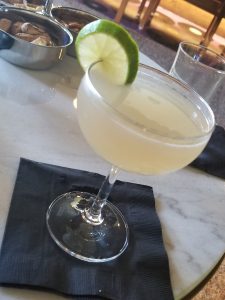 Christopher and I went on the recent DoMo Prohibition Pub Crawl and one of the stops on the crawl was the new LoFi bar on J Street. Being a new bar, we had not yet had the pleasure of having a drink there. We each ordered a Hemingway Daiquiri (which is still on the menu!) created with rum, maraschino, grapefruit and lime and truly enjoyed the cocktail before we moved to the next location. We couldn't stop thinking about that drink though and knew we had to go back! We met up with owner Lauren Jamieson, who told us the bar's theme is a musical reference-a place to come chill, relax, and take a load off. The theme carries through the old school  record and sheet music décor. Lauren is a Modestan, but recently spent 10 years in New Orleans, and opened LoFi purposefully with a New Orleans flair and hospitality. We felt it the moment we walked in-greeting with a smile, a cup of water and some snack mix. Drinking is very much a social event, and LoFi is all about community. "We want our patrons to know no one is excluded from that feeling of community," Lauren says. "We want everyone to be comfortable and enjoy a break from the day with a drink. We can find you a drink you will truly enjoy." You can absolutely feel her love of music, history and libations when you hang out here. The process of spirits, and the evolution of drinking inspires her menus. One of her obsessions is gin: the fact that any clear alcohol containing juniper can be gin is fascinating, as you can find gin with so many other ingredients to compliment juniper like citrus, sea kelp, florals-Gin ingredients really run the gamut and she provides a huge selection of gins for any cocktail mix you could want. "The thing about this industry is you are always learning-there is always something new, or something we can revisit from history, through innovation or creativity; you cannot be bored in this industry. If you are, it is your own fault," she says, and we agree-the current menu (which will change 3 times a year) features drinks from three eras: Pre-prohibition, prohibition, and post-prohibition. We had a drink from each section and can promise that you will not be disappointed in any selection. "I love the direction I can go with LofI-I can literally go any direction I want with drinks, there are no limits to what we can create. While we certainly can make you a traditional gin and fizz, go ahead and get creative. We can introduce you to some great drinks like the Gimlet. I'm confident our bartenders will help you find your new favorite drink." The next menu will feature drinks name after famous actors and actresses. 

Her favorite cocktail to make is a martini, but her favorite to drink? The Singapore Sling. And sorry Beatles fans, she's a Stones girl. 
Stop in and have a drink today and remember to drink responsibly. Sip on, friends!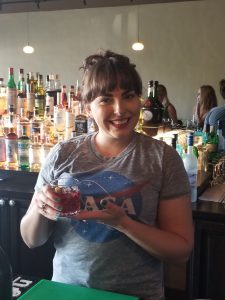 Hours: Wednesday through Saturday 3pm-midnight. Sundays 12pm-5pm. Closed Mondays & Tuesday.
Happy Hour Wed/Thur/Fri from 3pm-6pm
Live music Sundays from 1pm-4pm
Trax on Wax hosted frequently. Check Facebook for details.  


LoFi 
1323 J St, Modesto
Comments
comments
Bring on the rain, and a bottle of Wonky & Wry's Honey Braggot Ale. Loves to roast marshmallows over a fire. Enjoys the mix of cigars and whiskey.