BrewView: Lucca Winery Delights
By Christopher &  Brandilyn Mitchell



Lucca Winery is a great little hidden gem in Ripon. If you thought good wine was only in Lodi, I am here to tell you otherwise. You'll find it nestled in a luscious peach orchard, with plenty of parking, tables and shade. When the weather is too hot to be outside, no worries-delight yourself with flights in the spacious tasting room.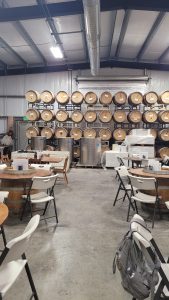 When we visited Lucca, we brought our Little and we sat inside. The tasting room has plenty of self-serve snacks, and your eyes won't lack for things to entertain them such as being surrounded by beautiful barrels, from neat old-timey advertisement posters to the taxidermy birds! ("Those are not birds Mommy, those are dinosaurs," my Little corrected me.) It's a nice quiet slice of Italy, just perfect for a date night, a friend hang-out, working on a paper, reading a book-whatever your heart desires, because all of those pair with their great wines. Our Littles favorite part was the resident puppers, Gus. He is a very good doggo! (Pictured with Mark & Lynnette.)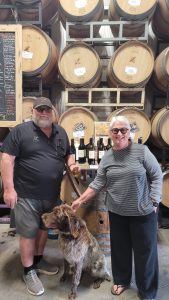 Lucca Winery is owned by Mark & Lynnette Lucchesi. Lucca not only comes from their last name, it is a city in Italy which they love to visit. Vino Rosso is their table wine-which they decided to offer after a trip to Italy and locals telling them they must offer a table wine! They regaled us with tales of their travels as we sipped their libations and got to know a little bit about who they are and why they love wine. "I was making jug juice for years-and I got better and better at it." Mark said. In 2011, they got their license and started with Zins and Petite Syrahs. In 2017 their gorgeous tasting room opened.

We asked them both, "What wine was *the wine* that made you fall in love with wine?"
Mark answered with loud enthusiasm, "Mourvedre! You may not have even heard of it. There's only 1,500 acres of it grown here. It's a full bodied delicious wine. Good grapes equals good wine. You have to have good grapes. We love blends. I get so many ideas that I become overwhelmed with my blend ideas. I am also very sentimental about my older varieties and blends." We totally understand that! Wine is a very sentimental alcohol! Lynette's gateway was Viognier. We tried both, and although neck-in-neck, the winner by one noodle-length was the Mourvedre!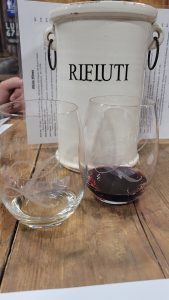 Where do they get their good grapes? Lucky for Lucca, Mark's family is into farming. He gave up farming to become a vintner, but his brother started in the industry and grows their grapes. "We're very lucky in that way. I tell him what grapes I want, he grows them!" Why Ripon? "We've been here 39 years. We wouldn't want a winery anywhere else. This is home."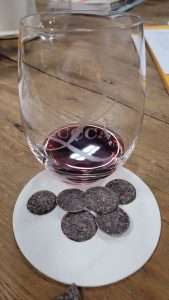 Flights are $15 ($20 if part of a large group of 6 or more). You choose from the three flight options. The fee is waived if you purchase a bottle. There are 25 different wines available on the flights-you really can't go wrong. I chose the first menu option, because it featured all whites– including a Moscato and a Viognier. Chris got the third menu option because it was filled with interesting names like an Oreste, Dionisio and Mourvedre. And where do most of their wine names come from? Family members! The Enzo is even named after their oldest grandson. They have 11 grandbabies, so that is a lot of wine naming to do! We're sure Mark will come up with some delicious new blends to name after them. Keep your taste buds ready-they'll be adding Brandy to their offerings in the future!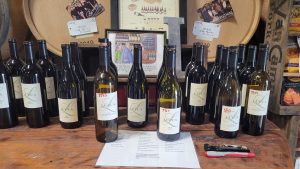 They have a really rewarding Wine Club, too. It's free to join, and there are release parties for pickups for six bottles of wine, two times per year, in April and November. There's a 20% discount for purchasing 1-11 bottles and 25% discount for 12+ bottles. Over the summer, there are exclusive events like live music by awesome bands and home-made pizza in their pizza oven. If you want to check them out I recommend attending one of the Summer Concert Series dates below:
July 8 – Foreigner Unauthorized
August 12 – Kalimba – the spirit of Earth, Wind, and Fire
September 9 – Big Band Beat

Check out information on these events, their wine club, wine list, and hours at luccawinery.com. We hope we catch you out there sometime! Sip on, friends!

Lucca Winery, 16265 E. River Rd Ripon. Fri-Sun 12pm-5pm. 
Bring on the rain, and a bottle of Wonky & Wry's Honey Braggot Ale. Loves to roast marshmallows over a fire.