Tap Travelers: Their Taps Travel to You
By Brandilyn Mitchell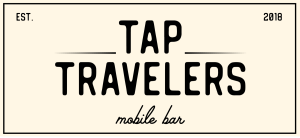 There's nothing better than locally-crafted brews like beer, wine and cider — that is, unless they roll up to your event in a custom restored 1964 GMC Panel truck.
Tap Travelers, owned by Julie Amaral and Monica Farhat, serves local beers, ciders and wines like Tapped Apple Cider, Last Call, and Dust Bowl.

After visiting Portugal in 2016 and seeing a similar truck parked near the top of a beautiful mountain offering "Wine with a View", they decided they wanted to bring that experience home and offer it to others. Their 3-wheeled Tap Truck  "Annie" debuted in 2018, but was replaced in 2019 with the larger, teal and white truckster you see today. It is very "American Grafitti-esque", which makes visiting them this month a great way to celebrate "Hot August Nights".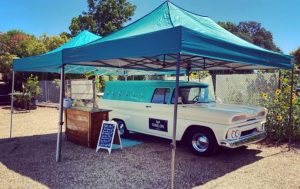 Julie used to be a paralegal and was into wine in college-so much so she but now she lives life to the fullest recommending beers for various events like corporate parties, bridal showers, golf tournaments and yes, even your local farmers markets. "There are quite a few craft breweries in the Central Valley, and we like to pour local whenever we can. We love to go around to like Persuasion, Contentment, and Blaker and pick what we like," she said. "We like to have options on tap that the customer can still get at the brewery. So if they like it, we know they can go get more. But I'm Portuguese, so I always have a Super Bock on tap!" But sometimes, local drinkers want a name they know: like Coors or Lagunitas-they will pour what you want! They offer Micheladas for $10, most other beverages are $7. For baby showers or for your dry loved ones, they make excellent mocktails and root beer!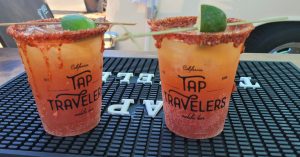 Growing up, Julie loved to try anything-even snails in the shell you had to dig out with a toothpick-so she has never been shy to try beers from all over, made with any kind of local ingredient. Kona's Passion Fruit Wheat Beer (Hawaii) is the beer that got Julie passionate about beer, which makes that an aptly named beer for several reasons. In college she had a friend who worked at the tasting room for Firestone, and her palate expanded with every beer she tried.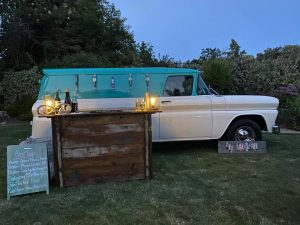 They bring the party, and the party doesn't truly start until they roll up! Julie might have retired from the corporate world, but she plans to drive this truck and serve beer as long as she can. Book them for your special occasion-You tell them what you want and they do all the work, down to the ice and napkins. This truck has the perfect ambiance for any occasion, and looks especially romantic when the twinkle lights roll out.

Find them at the Ripon Farmers Market, every other Thursday night from 5-8pm May-September at 929 W. Main Street behind Studio Joy
(Remaining dates this season: 8/10, 8/24, 9/7, 9/21)
Or visit them at taptravelers.com


Bring on the rain, and a bottle of Wonky & Wry's Honey Braggot Ale. Loves to roast marshmallows over a fire.