Where were you in '62?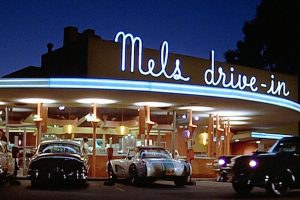 On August 1st, 1973, American Graffiti premiered at the Avco Center Triplex in Los Angeles. The coming-of-age film was co-written and directed by George Lucas. The film was released in stages across the country, opening on August 12th at New York City's Sutton Theatre. On August 15th, an additional 23 theaters, including 9 in Detroit and 5 in Denver, began showing the film. The film continued to be released across the country until January 1974. American Graffiti became the second-most successful movie in the history of Universal Pictures and number eleven on the industry's all-time list. The most successful North American theatrical run of American Graffiti was a 63-week engagement at the Varscona in Edmonton, Canada. The longest run of the movie in the United States was a 54-week engagement at the Colorado 4 in Denver. The film received five Academy Award nominations, including Best Picture and Best Director.

The State Theatre invites you to join them for the newly remastered 50th-anniversary edition of Modesto's most beloved film, American Graffiti. The movie will be shown on August 27th at 1 pm with $9 tickets and August 30th at 7 pm with $11 tickets.
Middagh Goodwin LIVES Music. He has been booking and promoting Music, Art, and Comedy in the Central Valley for years. He ran the award-winning Plea for Peace Center in Stockton for 5 Years and has booked bands from A-Z. In addition, he is the managing editor of ModestoView and writes the MAMAView and GeekView. Middagh works with the Modesto Area Music Association and books Music in the Plaza. In addition, he owns and operates Graffiti-Con, where cars and pop culture intersects. More recently, Middagh has been working with the Graffiti USA Classic Car Museum, helping to create unique events that help raise funds and awareness of the museum and its mission. On top of that, you can tune into one of two shows that Middagh Goodwin hosts on KCBP 95.5 FM; This is SKA and MAMA Radio.