Hot Off the Press!
Call for Entries
Deadline: September 16, 2018
Entries are now being accepted for a new exhibition in the Carnegie's Lobby Galleries, taking place this Fall/Winter. The juried exhibition is a celebration of contemporary printmaking and will feature as many as 45-50 works. Entries of works in all printmaking media are being accepted now through September 16, and the show will be on display from October 17, 2018, through January 27, 2019. It will coincide with the presentation of Posada & the Mexican Penny Press, an exhibition of prints by modern Mexican graphic artist/illustrator Jose Guadalupe Posada and his contemporaries.
Artists may enter up to six works. Entry fee is $20 for the first entry, $15 for each additional entry. Members of the Carnegie Arts Center receive a discount on entry fees. Artists must be at least 18 years of age and reside in California. Best of Show award is $500, with two awards of merit ($125 each) and four honorable mentions ($50 each) also being awarded.
MEDIA
All fine art printmaking media (intaglio, relief, lithograph, screenprint, monoprint) are eligible. Works in mixed media that include some printmaking techniques may also be submitted. Art must be hand-pulled and generated using at least one traditional printmaking method. Computer generated art is eligible only if it incorporates other methods of hand-pulled printing or handwork. No drawings, photographs, or direct reproductions are eligible. Recent work (plate/design completed in 2014 or later) is preferred.
DEADLINE FOR ENTRIES: All entry materials (entry forms, images, and fees) must be received by 4:00 p.m. on Sunday, September 16, 2018. Entries should be submitted through SmarterEntry.com; a link to the exhibit submissions page is available below. All materials and payment will be handled online. Any questions? Contact the Carnegie office by email: 
admin@carnegieartsturlock.org
; or call (209) 632-5761 for assistance.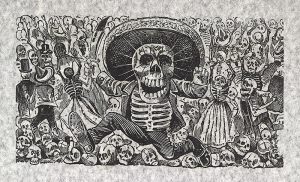 Comments
comments
Middagh Goodwin LIVES Music. He has been booking and promoting Music, Art and Comedy for years in the Central Valley. He ran the award winning Plea for Peace Center in Stockton for 5 Years and has booked bands from A-Z. Middagh is beginning 2016 with a new position at the Gallo Center for the Arts and celebrating Beat Happy! Music's 30th Anniversary. Read the MAMAView every month and a the Needle Drop 52 Records 52 Weeks.