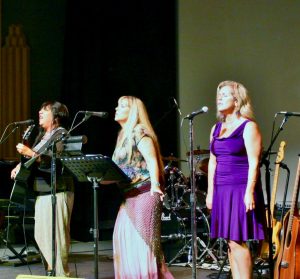 SONGWRITER VIEW: AMERICAN WOMAN-Listen What I Say
By Patty Castillo Davis
There is no shortage of music while celebrating Independence Day in the 209. The annual community parades are opened by a rendition of the National Anthem and filled with marching bands, dance troupes performing to exuberant tracks and live bands on floats. Every hamlet, town and city has a musical score woven through which serves it's identity. The 209 is charmed to have a strong suit in every genre, flavored by Latin and Southeast Asian texture which truly makes us ModestoUSA.
Women Musicians! You Rock! You Rule!
You navigate the inequity of the business with grace. I've been a torch carrier for female troubadours for decades. I cry for justice for you and your art. I'm not gonna encourage you to join a club for girls, I'm not gonna just give you ONE day to celebrate your awesomeness, I'm not gonna persuade you to play for free against your better judgement to support a National artist. I am working with our female peers and male music allies to create venues and opportunities for women to rule and shine and create an unforgettable legacy. Your time isn't now-it's ALWAYS been our time. You can do your part-inquire and insist on the inclusion of women artists. There would be no Elvis without Big Momma Thornton, no George Strait without Kitty Wells and no Prince without Mavis, Cleotha and Yvonne Staples. Book opportunities for women at pcdenterprises@yahoo.com
KABOOM-the 4th of July concert at Stockton Ballpark will feature William Michael Morgan and MAMA winning Singer-songwriter Mondo Mariscal in a country extravaganza. For ticket info ticketmaster.com price includes parking.
DEVA Café is serving up great food and fantastic music every Sunday Brunch with Us4Love (formerly Me & You-the Duo) on 7/1, Tim and Patty 7/8, and The Grammys on 7/15.
On Friday, July 6, Gallo Center brings Rita Coolidge-the quintessential Muse of many iconic rock songs and the uncredited composer of the famous piano bridge in Eric Clapton's song-Layla. This Grammy award-winning artist boasts collaborations with Joe Cocker, Bonnie and Delaney, Leon Russell, Eric Clapton and most notably Kris Kristopherson to whom she was married to for seven years.
The Stanislaus County Fair hosts a great lineup of talent July 13-July 22.The Patty Castillo Davis Band is proud to support Trace Adkins' concert when he takes the stage on Monday, July 16. Music starts at 6:30.
Comments
comments