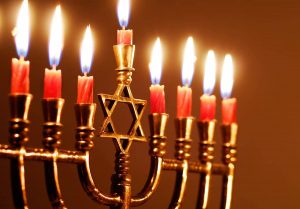 Chanukah 2019!
Congregation Beth Shalom invites you to Celebrate the light during this darkest time of the year.
Sunday December 22 – Vintage Faire Mall
Monday December 23rd at 5pm in Downtown Turlock
Friday December 27th 4:15pm in McHenry Village
Friday December 27th 5:15pm at Congregation Beth Shalom
Saturday December 28th 7pm in Downtown Oakdale
Sunday December 29th 5pm in Downtown Merced
For more information: (209) 571-6060
www.cbsmodesto.org
Comments
comments
Chris Murphy is the President and CEO of Sierra Pacific Warehouse Group and Publisher and Founder of ModestoView Inc. Chris worked globally in the cycling industry returning to Modesto in 1996. He is also the founder of the Modesto Historic Graffiti Cruise Route, Legends of the Cruise Walk of Fame, Modesto Rockin' Holiday, the Modesto Music History Organization and co-founder of the Modesto Area Music Association. Chris is married to his artist wife Rebecca since 1985 and has two daughters Madison and Abigail, both graduating from Modesto High and UC Berkeley. He is lead singer and guitarist for his band, Third Party that donates their performances to non-profits.