For Great Q it's Doc's
By Tasha Wilson Photos by Middagh Goodwin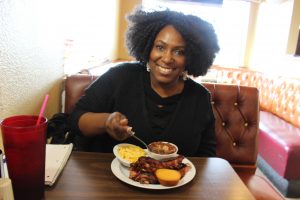 Hey Positive Peeps! It has been a while since I have shared a "Fun Food Ride" with you guys and it sure feels good to be back! I couldn't have returned at a better time either, because I'm covering my favorite food subject: SOUL FOOD!
Nothing says, "YAAAAAAAS," like some good old-fashioned Soul Food and nothing says Soul Food, like Modesto's own Doc's Q'In Pit Shop! Doc's restaurant has the best barbecue in the Stanislaus County and with the business being open here locally for more than fifteen years – that has to tell you something!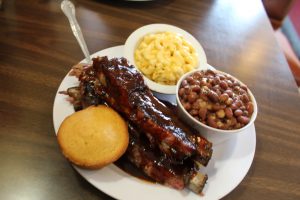 Doc's Q'In Pit Shop came about by way of the owner, Derek Taylor's uncle. Mr. Taylor's uncle was known as a great cook and people always told him how much they enjoyed his food. As time passed, numerous people encouraged him to open a restaurant and finally, he did.
Now don't get me wrong, there are a lot of different factors that come into play when I attempt to explain the wonderful thoughts that cross my mind when describing my opinion about the elements of flavor I experience from the very moment that I begin to enjoy an extraordinarily delicious meal. I mean sure, we all enjoy eating good food, but at Doc's, things are a little different. . . . 
First of all, the meat, seasoned to absolute flavorful perfection, is out of this world! Honestly, I have a hard time explaining it without telling you that you simply MUST go and try it out for yourself. Otherwise, you just won't believe me! I'm talking ribs, tri-tip, hot links, chicken, fried fish, black eyed peas, collard greens, yams, barbecue beans, macaroni and cheese, and peach cobbler! You can never exclude their peach cobbler! Is your mouth watering yet? I know it is! But you need not worry, I'm going to provide you with the address shortly!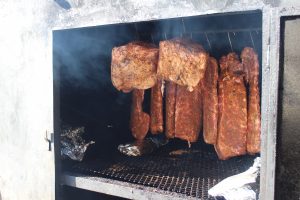 Erika Taylor, the owner's stunningly beautiful and gracious daughter was kind enough to talk with us while I continued eating my desert, (a bowl of peach cobbler)! I say "us" because as usual, I was not alone on my "Fun Food Ride." This time, my regular food companion, (famed local photographer), Michael J Mangano, was unable to join me. Instead, I asked Modesto View Magazine's very own Middagh Goodwin to come along. It's always a treat spending time with Middagh because he and I share the same off-brand type of humor. He enjoyed his meal just as much as I did. Chicken was his pleasure, while I enjoyed the ribs! He passed up on desert though, and to this very day, I cannot understand that! Who skips peach cobbler at a Soul Food Restaurant? Still, I respect his will power, that's for sure!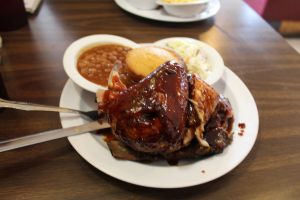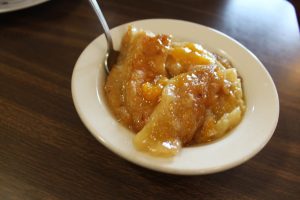 As Middagh and I continued to converse with Erika, I asked her what she loved most about being at Doc's through the years. She responded, "The people. I love seeing them enjoying our food. That's what keeps me happy." Her happiness is contagious too. Erika's smile is genuine and meaningful.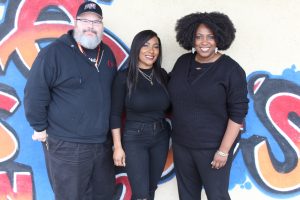 So if ever you're coming down Highway 132, (on a Tuesday through Sunday, between the hours of 11:00 AM to 8:00 PM), stop in and have a meal at Doc's Q'In Pit Shop. Located at 421 Maze Boulevard, Modesto, CA 95351, the food will have your taste buds jumping for joy and craving more! Stop in and have a chat with Erika! I promise – you'll be glad you did! For more information, you can visit their website at: http://docsqnpit.com/.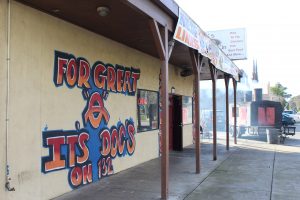 Tasha is a true "Multipotentialite" in every sense of the word! Not only is she a freelance writer, but she also sings, acts, attends MJC full-time, pursuing her degree in Human Services, while single-handedly raising two teenagers, a son, Giovanni (16), and a daughter, Aciemarie (14). Find her on both Facebook and LinkedIn here: www.facebook.com/tasha.smiles.daily, www.linkedin.com/in/tashaalwayssmiles.