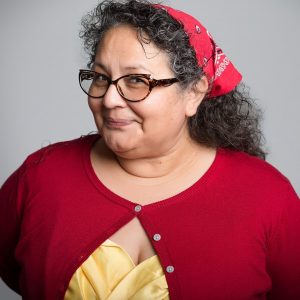 ComedyView
By Felicia Aleman
Hello, hello, hello. Break out your tank tops and sunscreen, this summer is so hot I've already ovulated a poached egg. Don't be bummed the AC isn't working, go out for some laughs.
This month, my video interview is with Jason Sohm, a comic from Manteca. Since I've met him, he has gone from a wild long-haired comic to a wild SHORT-haired comic and is always quick with a comeback. He is part of the Deaf Puppies comedy group and the father of two. He shares his takes on fatherhood and the life of a comic that everyone can relate to. Among other places, he will be at Stanislaus Brewing Co. 
June 16
. Check out this month's Run the Light at ModestoView.com for more.
Stay cool at a comedy show. They're usually inside and have refreshing beverages available. Follow these comedy producers on Facebook/Instagram/social media for more details on the shows below.
First and third Tuesday, Anthony K brings Cheroot Comedy Night to Modesto starting at 8. Limited seating. FREE
Friday, June 8
 Saul Trujillo hosts comedy at Shadows Steakhouse in Stockton. $10 cover. 18+
June 12
 I host the Two Tuesday show at Stanislaus Brewing Co. in Modesto. 7-9 is an open mic and 9-10 is a comedy showcase. If you want to give comedy a try, come out, sign up, go up or just come out for a good time. FREE
Wednesday, June 13th
 AJ DeMello's Ha Sauce Delight at the Pizza Factory in Turlock at 
9 p.m.
 FREE
June 16th
 I will host Father's Day Funnies at Stanislaus Brewing Co in Modesto. $15 or 2 for $20 18+
June 22
 at 8, Jimmie Menezes takes 209 comedy to the Vikings MC in Hayward. No cover. 21+
Saturday, June 23rd
 is busy with three shows: Chris Teicheira brings comedy to Strings in Manteca at 
8:30
. $10 cover. Koe's Bar in Stockton and Dave Touchstone present Comedy KO Night. 
8:30
 FREE. Last, but not least for the 23rd, Olivia Malekos has Jokes Jamz Comedy/Music night for all ages at Bella Vista Cucina in Stockton. $10 cover. Comedy, magic and music.
June 27
 Outpost Saloon in Waterford. Hosted by Jimmie Menezes and myself. 
8:30
 FREE
June 28
 Serena Gamboa hosts Comedy for Vets at the Stanislaus Veterans Center in Modesto (Coffee Road). $10 cover supports the Marine Corps League.
Find some funny!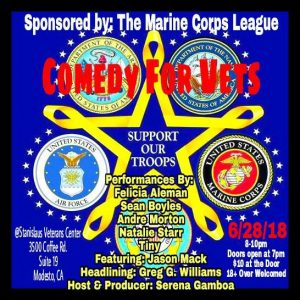 Comments
comments