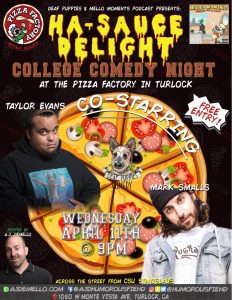 ComedyView
By Felicia Aleman
Hello, hello, hello.  Welcome to the April edition of Comedy View.  This month's theme for the Modesto View is sports.  As a comic, I will do my best to resist making any "kicking it into the basket for a home run" jokes.
Have you been keeping up with my monthly interview videos, "Run the Light" on ModestoView.com? It only takes 10 minutes to meet a new comic, so check it out. This month's video is with A.J. DeMello. A.J. is from Turlock and has been in comedy for about six years.  He currently has a monthly show—Ha Sauce Comedy Delight at the Pizza Factory in Turlock and also produced the charity comedy show at Queen Bean for a few years.  We talk about his writing discipline and how horror and comedy are similar.
On the video, A.J. and my cameraman, Rocco, try to teach me to stop using "filler words". I've got to stop it with the "umms" and "likes", I never hear Oprah talk like that!  If you've ever used a water spray bottle to try to keep your cat off the counter or your dog off the couch, then you'll know what I'm talking about.  This was a fun, damp episode.
As usual, there is comedy stuff going on.
Mark Noyer is doing his Stuck in Lodi Comedy Show on Thurs. April 5 at the Six Shooter Saloon in Lodi at 7 p.m.  Anthony K will headline, Chris Teicheira will feature and the lineup is chock full of 209 comics (me included).  No cover so get there early for a seat.
Every first and third Tuesdays of the month are Cheroot Comedy run by Anthony Krayenhagen. 7:30 p.m. No cover.
The first Thursday of every month is Poorhouse Millionaires and Friends at Ralston's Goat music and comedy run by Earl Matthews and me. 8 p.m. No cover.
The last Wednesday of every month is Comedy at the Outpost Saloon in Waterford.  April 25. 8 p.m. Co-hosted by Jimmie Menezes and Felicia Aleman. No cover.
April 11, Ha Sauce Comedy Delight at The Pizza Factory in Turlock 9 p.m., no cover. A.J. DeMello
I may be jumping the gun a bit, but I am excited to be producing a Mom-edy show for Mother's Day on Saturday, May 12.  Tickets are $15 and details will follow soon.
Hope to see you at a show!