Corbin Cash Releases New Whiskey: 1917
by Brandilyn Brown and Christopher Mitchell
Our favorite local distillery, Corbin Cash, has grown exponentially in the last year. If you need a refresher on their awesome sweet potato spirits, head to modestoview.com and read the previous article we wrote on David Souza and Corbin Cash. The distillery rotates between making rye products and sweet potato products depending on the time of year. When it's rye season, they're making whiskey and when it's sweet potato season, you guessed it: they're making vodka, gin and liqueur. It's harvest season for the sweet potato so boy are they busy!
Their sweet potato vodka won a Double Gold in 2011 at the San Francisco World Spirits Competition, and a Double Gold at the 2013 Wine and Spirits Wholesalers of America 70th Annual Convention & Exposition. Although the brand new 1917 cask strength whiskey is what brought us to the distillery this time, they have 6 great spirits to sample. Find your favorite, buy a bottle (or two, or three) and share with your friends. We really dig the sweet potato liquer (we're on bottle number 3 at our house) but the new 1917 is our new sipper go-to. It's smooth with a faint scent of wood, on the nose you'll get a touch of spice reminiscent of vanilla chai, but sweet takes charge of this whiskey with caramel notes teasing your tastebuds. This is a dreamy whiskey, folks! Our bottle won't last long!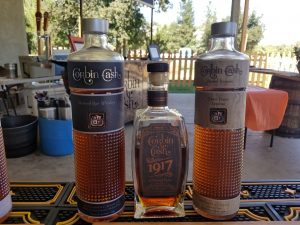 The unique thing about Corbin Cash that we truly love, is that Dave is involved in the entire process. He's there when the seeds are planted, he's there at harvest, he's there for washing and boxing, he's there when it's fermenting and distilling, he's there when it's bottled and sold. He won't take full credit though, he humbly told us it takes over 50 people to make one bottle of Corbin Cash. When you enjoy your cocktail, you are holding the work of machinists, planters, harvesters, forklift drivers-there are so many people involved! We encourage you to think about that the next time you buy produce, or you know, a bottle of whiskey. They are open for tasting and tours now, and on Thursday and Friday nights you can hear some great local music. There's plenty of seating and a new horseshoe pit and cornhole, too.

Special thanks to Edith Duran for being fabulous and letting us hang out entirely way too long. Sip on, friends!
Corbin Cash Distillery
3241 Hull Road
Atwater, CA 95301
559-753-0024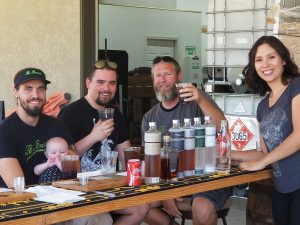 Comments
comments
Bring on the rain, and a bottle of Wonky & Wry's Honey Braggot Ale. Loves to roast marshmallows over a fire. Enjoys the mix of cigars and whiskey.