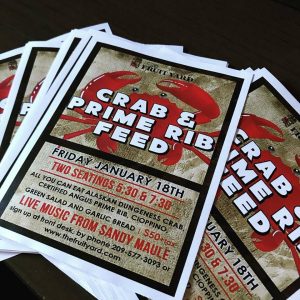 CrabView
It's a brand new year and it is a brand new crab season. Boy oh boy is this one of the tastiest time of the year and the ViewCrew are suckers for a great crab feed. Best of all, you get this delicious treat at the same time, you can help some of our hardest working non-profits that really need your support. So why not, help one of these great organizations and enjoy one of the best tastes ever. You will probably see us there with our own special butter blend. AND, even if you can't make it to the event, some of these will prepare Crab dinners to go and you can enjoy at home and best of all, make crab omelets for your next breakfast.
01/25 Crab Feed, New Haven School, Manteca
01/26 JROTC Crab Feed, Ripon Community Center
01/26 TAAC Crab Feed, Tracy Community Center
02/01 Crab Feed at Howard Training Center
02/01 Crab Feed at St Stanislaus School
02/02 Marinated Crab Feed at Our Lady of Fatima
02/08 PER Crab Feed at Modesto's Elk Lodge
02/08 MOHI Crab Feed at St Stanislaus Hall
02/09 VFW Post 3199 Crab Feed at Stanislaus County Veterans Service Office
02/09 Crab Feed at the Princeton Event Center
02/09 Crab Feed at St Joseph Church
02/09 Crab Cioppino Feed at Lopes Center, Patterson
02/09 CVCR Crab Feed, Escalon Sportsman Club
02/16 Mary Lyons Night Crab Feed at Old Fisherman's Club
02/16 Crab Fee at St Joseph KOC
02/16 Marinated Crab Dinner at Azores Band of Escalon
02/22 Crab Feed & Auction at Gene Bianchi Center, Oakdale
02/23 Enoch's Crab Feed & Silent Auction at Greens on 10th
02/23 Beyer's Crab Feed at St Joseph Church
03/09 Lion's Crab Feed at St Joseph Church
details on these events in our events calendar
Comments
comments
Chris Murphy is the President and CEO of Sierra Pacific Warehouse Group and Publisher and Founder of ModestoView Inc. Chris worked globally in the cycling industry returning to Modesto in 1996. He is also the founder of the Modesto Historic Graffiti Cruise Route, Legends of the Cruise Walk of Fame, Modesto Rockin' Holiday, the Modesto Music History Organization and co-founder of the Modesto Area Music Association. Chris is married to his artist wife Rebecca since 1985 and has two daughters Madison and Abigail, both graduating from Modesto High and UC Berkeley. He is lead singer and guitarist for his band, Third Party that donates their performances to non-profits.