DateView: Your Slice of Heaven Awaits at Dragonfly Tea Room
By Brandilyn Mitchell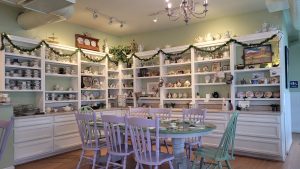 If you are looking for something out of the box (er, from another era?) for Valentine's this year, I have found the perfect date for you! Whether you want to take your partner, your best friend, your mom or your kids, Dragonfly Tea Room is the decadent special treat you need this year.
I will not be surprised if you have never heard of Dragonfly before now, because I hadn't either! After visiting Columbia Kate's Tea House in Columbia in 2011, and deciding that is what she wanted to do, Judy Robinson learned all she could about tea. She crafted bags of loose leaf tea to sell at the Modesto Farmers Market and even attended the World Tea Expo in preparation for her own tea room. She developed menus and hosted at-home tea parties to practice. She was ready and excited to open in 2018! Things were going steady until January 2020, when she was afraid she might have to close the tea room. That first year of the COVID-19 pandemic almost took the tea room with it. It got to the point she was looking to sell what product she had on the shelves and have another business take over the lease. Things were dire! But the wonderful Modesto community and those that love this little slice of paradise, came through to help her financially survive. Tea and grab 'n go orders increased enough to pay the rent, month after month. Then in November of 2020, a grant from the Stanislaus County Workforce got her in a position to no longer need to sell, and helped her pay off her debts and hire staff. The tea room hours increased, and the doors are still proudly open. When asked about how Covid affected the tea room, she humbly replied, "It taught me I can do it all, everything fell to me, and I -through my faith-was able to hold fast and stay the course. Every time I struggle, I remind myself I am exactly where I am supposed to be, and my faith gets me through." When you drink tea in your beautiful glass and ceramic teaware on your date, just know you are a part of the Dragonfly tea room history, keeping it open for yourself and others to continue to enjoy!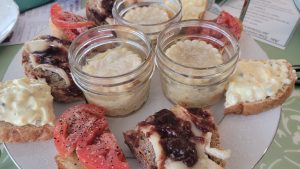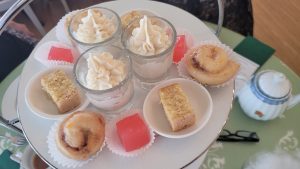 The menu this month will be Parisian themed, a collaboration with Boho Buttercream featuring delicious macarons. While I was there to interview Judy, I ate from the Narnian menu called "Tea and Toast with Mr. Tumnus" inspired by page 16 of C.S Lewis' book, "The Lion, The Witch and the Wardrobe."  Lewis once said, "You can never get a cup of tea large enough or a book long enough to suit me." I feel the same way! My favorites were Mrs. Beaver's pot pie, the White Witch's Chocolate Mousse, and Edmund's Downfall Turkish Delight (which I also ate for the first time in my life and ohmygosh how did I ever live without Turkish Delight?). I really think the French menu will give Mr. Tumnus a run for his….whatever they use for currency in Narnia. (A quick Google search tells me they used coins called "lions"!) So grab your favorite person (or persons) and make your February reservations for this great little tea room for only $26 lions per person. I mean, dollars, per person. 
My party and I had a lovely afternoon filled with chatting, making memories, eating delicious sweet treats and savoring every morsel. Judy's favorite tea is the Lavender Earl Grey so that is what I ordered and it was HEAVENLY! I know you will enjoy it, too! For reservations call the store at 209-622-0811. Sip on, friends!
Dragonfly Tea Room
Hours: Wednesday through Saturday, 10 am to 4 pm. Closed Sunday, Monday, Tuesday
835 W Roseburg Ave. Modesto, CA 95350
Follow them on Facebook for updates and monthly menu selections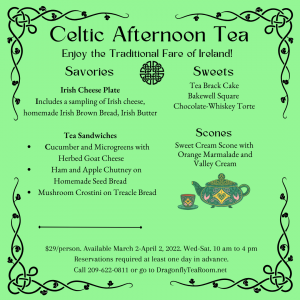 Bring on the rain, and a bottle of Wonky & Wry's Honey Braggot Ale. Loves to roast marshmallows over a fire. Enjoys the mix of cigars and whiskey.