Devil's Elbow Bar Hunt: Drinking Downtown Turlock
by Brandilyn Brown and Christopher Mitchell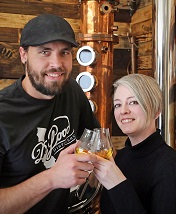 BrewView took to downtown Turlock yesterday to support a fundraising effort for the upcoming feature film, Devil's Elbow, written, produced and directed by Turlock native, Bavlina Youri, who studied at both Pace University and at LAByrinth Theater Company. The move synopsis: A misunderstood teen is sent to a boarding school, where the torturous experience haunts him until redemption is found through vengeance. This somber movie, which brings awareness to abuse, the mental illness it causes, and the everlasting effects, will be filmed in Turlock.
Bavlina, a fun-loving artist, has been creating scavenger hunts around Turlock. The Bar Hop was the second hunt, and a third has been confirmed. This one was right up our alley: we love Turlock and frequent the bars downtown. This was a great way to support all of them!
The Devil's Elbow team were very creative with their tasks. Some of the items on the list include dressing up a fire hydrant and taking a selfie with it, doing a fake proposal in front of Dust Bowl with witnesses, finding (and then flying) a kite, and of course: drinking various cocktails or taking shots in the bars that participated. The rules were simple: complete as many tasks as possible in the time limit, respect patrons & property, don't be rude, and do not drink and drive. After that, anything was fair game.
Downtown Turlock was all-abuzz for this event. The bartenders were ready to participate and were as helpful as they could be. While you couldn't ask them for assistance out-right, you could ask what cocktails other teams had ordered. Families enjoying the shops and eateries gladly participated in many of the photos and videos.
The ModestoView team, "Chug Norris and the BrewFish", were led by BrewView writers Brandilyn Brown and Christopher Mitchell, and were joined by Andrew and Melissa Bylow. We were able to complete 16 tasks, but that wasn't near enough to win! The second place winners were "Still Drunk From Last Night" and the first place team was "Hot Mess Express".
I encourage all of you to check out one of the many awesome bars in downtown Turlock! There's the Udder Place, Hauck's Grill, The Grand Cru, Staley's, 10east and Memo's.  Drink Downtown Turlock one bar at a time, but remember to drink responsibly, and at the end of the night call an Uber!
Sip on friends!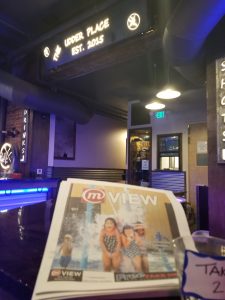 Bring on the rain, and a bottle of Wonky & Wry's Honey Braggot Ale. Loves to roast marshmallows over a fire. Enjoys the mix of cigars and whiskey.