FitView: Food Indulgences
By Efren Martinez
As the New Year starts so do the resolutions for living a healthier life. Unfortunately many won't always succeed in their resolutions. Why? Most of the time it's because we bite off more than we can chew. No pun intended. It's like this, we are all so gun-ho with losing weight and exercising regularly that we do it for the wrong reason. We want to look our best, maybe in those skinny jeans. In fact, a great deal of us put the healthy lifestyle pretty much in the backseat with mainly focusing on the vanity part. This type of extreme could be one of the core reasons why so many of us fail after just the third week into the New Year.
A key component in this way of thinking usually consists of depriving ourselves of the simple pleasures in life. I'm talking about great tasting food. So my advice to you is to go easy on those healthy resolutions. Start and/or continue your exercise programs but don't over-commit yourself. It should not consume your entire life. Remember it's not a mortal sin if you skip a workout. Just hit it a bit harder the next time around.
Another great reminder is to always have your rewards and cheat days. Reward yourself with some of life's simple pleasures after you've put in the 5 day fitness week. For my simple pleasure, it would be taking my wife to our "inspiration point". Unlike the Happy Day's kind of Inspiration Point mine would be at Rite Aid. I'd be sitting in the parking lot enjoying some good old fashion Thrifty Ice Cream. So if you ever see me just chill'n in the Rite Aid parking lot, don't come kick'n if you see me lick'n, Happy New Year!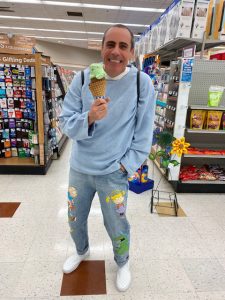 I answered the call back in 1983; mixing Music and Entertainment with an eccentric European style has always come easy for me. In the early 80's I was the Disc Jockey for most of the high school dances in Modesto. In the late 80's I found myself in Hollywood working as a dancer and sound engineer for various professional recording industries. In 1990 my wife of 25 years and I started (The Quake Mobile DJ ®) which was seeded from San Francisco's 1985, The Quake, radio station that only lasted a short while on the air. 26 years later The Quake Mobile DJ is bigger & better than ever in the Entertainment industry. Real-Estate, photojournalism, event promoter, saving animals, travel and fitness are a few other of my interests. I also enjoy motivational speaking to children and to those who are struggling with addiction. In my life, I have always been a very direct person and once I see a goal I won't quit till I've achieved it. But out of all of the above I feel in my heart that the best inspiration in my life is my wife and my love for the faith that I practice. Phil 4:20