Food and Drink View: The Patio is the New Star!
By Chris Murphy
Well, the bars are not open and what do we do?  Yes, I know you want to go bar hopping as much as I do, but we just can't.   So, how do we enjoy our favorite libations during this time?  Yes, friends, the stay at home order has just been lifted, but we need to still do it right.  So now that patio dining is back on the good list, there are many great options for our food and drink loving friends.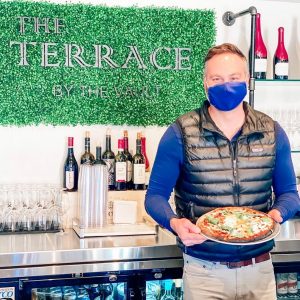 On the good things that happened during COVID is that local restaurants are doing a great ToGo and Curbside business along with their patio dining, including cocktails.  I think that this is something that needs to stay in the future.   Even when this is all over, there are times when I want my Fuzio, Tresetti's, or Rivets entrée to eat at home and I want a ready-made craft cocktail to take home to go with it.  It is great to take home and it is great for our local restaurants.  
To-Do Item:  Write your local congressperson, state senator or representative and get this rule changed PERMANENTLY.   
The patio has an important role in our future.  We are not out of the woods yet and Modesto, along with most of America, needs to realize that some of our best places to dine are on the patio, streetside, curbside, alley side and where ever you can make one.  These need to be permanent spaces where outdoor dining can be enjoyed year-round.   As a frequent Europe traveller, the outdoor café is a way of life all year long and we can bring that home to Modesto now that so many of our local places have built patios, parklets and other potentially permanent spaces. 
So where are a few spaces where you can still get some magic during your pick up or in a great outdoor setting?  This month we feature a place that is basically all patio!  If you have not been to the Terrace Wine Bar on McHenry, you have really been missing out.   The whole theme of this place is enjoying a cocktail in a beautiful outdoor patio.  The twinkle lights, the nice trees, the expansive wine list, acoustic music and the craft snack menu is a great reason to spend an al fresco evening with something red, white or bubbly.   Our friend Ron Hurst has been helping make some magic for a long time in Modesto and especially now in this really inviting space.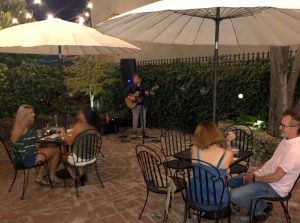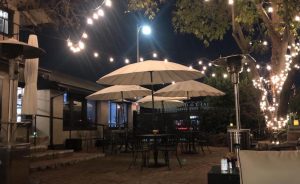 You can enjoy some great champagne flights and there are many rose options too.   You can even get a Sakerita, a cool blend of sake and tequila.  The Terrace is a great place to experiment.  There are old-world flights, light flights to be paired along with a great tasting menu with fresh artisan cheeses, berries and bread, fresh pretzels, bruschetta and also stone oven pizzas.  As we are still in some cold and rainy times, there is some great hot spiced wine too.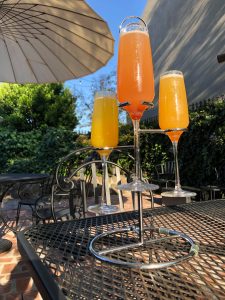 You will start to see more regular hours around town and hopefully, our local places can get back into the groove going into spring.  The Terrace is easy, comfortable and it is 21 and over only and features great local music in the evenings.  Enjoy.  
The Terrace Wine Lounge  
521 1Ž2 McHenry Ave.  Modesto
Wed, Thurs 4-10 Friday 4-11 Saturday 2-11 Sunday 2-8  
 (209) 312-9636
@theterracewinelounge
Comments
comments
Chris Murphy is the President and CEO of Sierra Pacific Warehouse Group and Publisher and Founder of ModestoView Inc. Chris worked globally in the cycling industry returning to Modesto in 1996. He is also the founder of the Modesto Historic Graffiti Cruise Route, Legends of the Cruise Walk of Fame, Modesto Rockin' Holiday, the Modesto Music History Organization and co-founder of the Modesto Area Music Association. Chris is married to his artist wife Rebecca since 1985 and has two daughters Madison and Abigail, both graduating from Modesto High and UC Berkeley. He is lead singer and guitarist for his band, Third Party that donates their performances to non-profits.