AllAgesView
By Sofia Johnson
After crossing the days off my calendar until 2020 would be over, the new year is officially here. May we use the lessons learned from the former year to nourish the soil of the present one. This year I foresee tremendous growth and prosperity within my country, my community, and most importantly, myself.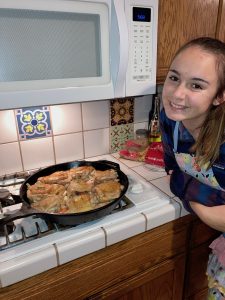 If I learned anything from 2020, it is that locally owned businesses are a staple of our community and need our support now more than ever. My New Years resolution will be to continue to order takeout from my favorite restaurant or grab a drink from my favorite coffee shop weekly. Some of these have included The Queen Bean, Chefs of New York, and Scenic Drive-in and I am excited to continue to give them my business.
If you are like me, you must be missing the Farmer's market already; all of the local produce, restaurants, and entrepreneurs truly embody all of Modesto's diverse interests. But fear not because the season just started on January 23rd and will extend through March 27th (Saturdays only). I am extremely proud of one of my closest friends who is a vendor there. Emma Silveria is selling her handmade jewelry including beautifully made necklaces and earrings and you can find her on instagram @jewelryby.emma.
If you know where to find the Farmer's Market, you know that only a few yards away is the beloved Stanislaus County Library. Last month, the library held virtual trivia nights as well as painting and gardening classes and this month there will be virtual story times every Tuesday. If you would like more information for the dates and times of these events, feel free to check out the Stanislaus County Library online calendar. You can also use their website to stay up-to-date on future events under the "Events and Classes" tab.
After 365 long days, 2020 taught me that nothing is predictable, adaptation is critical, and family is everything. I am entering the year 2021 with hope and a new mindset… and of course a mask :). Stay safe Modesto.