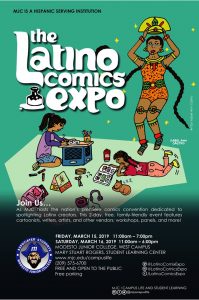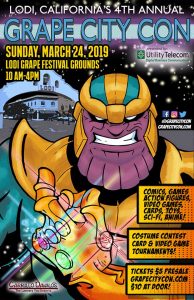 GEEKView: Latino Comic Expo and Grape City Con
By Middagh Goodwin
I first heard that Ricardo Padilla and Javier Hernandez in association with ASMJC and Dr Theresa Rojas were bringing the Latino Comic Expo to Modesto back in November and have been excited ever since. Taking place at Modesto Junior College Mary Stuart Rogers Student Center on West Campus, 2201 Blue Gum Avenue, Modesto on March 15 and 16th doors open at 11 am you will not want to miss this great event.
Co-Founded by Ricardo Padilla and Javier Hernandez in 2011, the Latino Comics Expo is the nation's first convention dedicated exclusively to promoting and highlighting the contributions of Latino creators (both in the U.S and beyond it's borders) in the fields of comic books, graphic novels, comic strips, political cartoons, zines, animation and related popular arts. With 8 previous shows ranging from San Francisco, Los Angeles and Brownsville, TX, and an expansion into an annual Latino Animation Festival, the LCX is the premier resource for fans to meet and support the Latino creators of today and tomorrow.
The creator of Homies, David Gonzales will be attending along with several other guests. Artist Jaime Hernandez co-creator of the indie comic Love & Rockets whose characters are complex and feel real, right out of SoCal Punk and Lowrider culture. Author/Artist Cathy Camper writer of the Graphic Novel Lowriders in Space and Lowriders Blast from the Past. Professor and Author Fredrick Aldama He is the author, co-author, and editor of 36 books, including the award-winning Laatinx Superheroes in Mainstream Comics. Sonambulo creator Raffael Navarro, Happy Tree Friends co-creator Rhode Montijo, Cartoonist Jaime Crespo, and Zine creators Isabel Ann Castro and Natasha Hernandez are just a few of the creators that will be joining the Latin Comic Expo.
In addition to their vibrant exhibit hall where attendees can meet one on one with the creators, the LCX is known for its wide variety of panels and workshops. Topics have included self-publishing, crowdfunding, Latina Power, individual author spotlights, historical presentations, scholarly studies, workshops for kids and more. The Expo is a place to celebrate creativity, to educate, inform and learn, and to be able to share the richness of our various Latino cultures
Friday features panels on Latina Power, Lucha Libre comics, Tales from La Vida, Comics in the Classroom & a spotlight on Jaime Hernandez (LOVE AND ROCKETS)!
Saturday highlights include a spotlight on HOMIES creator David Gonzales, a zine making a workshop with Cathy Camper (Lowriders in Space) and Isabel Ann Castro (St. Sucia), a "Para Los Niños"children's book panel and a spotlight on SONAMBULO creator Rafael Navarro!
Friday and Saturday, March 15th and 16th 11 am at Mary Stuart Rogers Student Center on West Campus, 2201 Blue Gum Avenue, Modesto
This is a Free Event so bring your family. For more information www.latinocomicsexpo.com
On Sunday, March 24th 10 am-4 pm, don't miss Grape City Con at the Grape Festival Grounds, Lodi CA. Grape City is one of the best one day Cons in Northern California and is a fan favorite for many. The event will again feature over 150 exhibitors and artists, with more than 40,000 square feet of exhibitors, artists, panels and gaming. Some of the guests announced already are VA Shannon Farnon best known as the voice of Wonder Woman on the Super Friends and Chris Anthony the original voice of Barbie. The Costume Contest will take place in Jackson Hall at 4pm. A portion of the proceeds from the Grape City Con will benefit the Salvation Army Lodi and United Way of San Joaquin. Pro Wrestling Bushido will again hold an afternoon wrestling show just outside the main halls.
Middagh Goodwin LIVES Music. He has been booking and promoting Music, Art, and Comedy in the Central Valley for years. He ran the award-winning Plea for Peace Center in Stockton for 5 Years and has booked bands from A-Z. In addition, he is the managing editor of ModestoView and writes the MAMAView and GeekView. Middagh works with the Modesto Area Music Association and books Music in the Plaza. In addition, he owns and operates Graffiti-Con, where cars and pop culture intersects. More recently, Middagh has been working with the Graffiti USA Classic Car Museum, helping to create unique events that help raise funds and awareness of the museum and its mission. On top of that, you can tune into one of two shows that Middagh Goodwin hosts on KCBP 95.5 FM; This is SKA and MAMA Radio.