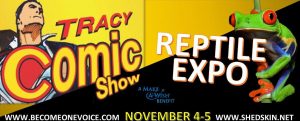 GEEKView
by Middagh Goodwin
If you are a Geek you are very lucky to be living not just in this era where so many cool Movies and TV shows are being made, but in the 209 where we are fortunate to have so many Conventions happening in our own backyard.
November 4th and 5th take the short drive to enjoy the Tracy Comic Show at Northgate Village 1005 E Pescadero Ave, Tracy. Ticket price is very reasonable only $13 adults for the weekend kids $8 for a weekend pass. Meet Kevin Easton creator of the Teenage Mutant Ninja Turtles, Margaret Kerry the original model for Tinkerbell, Voice Actress Kathy Garver and more. Remember your ticket also gets you into the Tracy Reptile Expo.
With all cons, there will be tons of Vendors and Artists to check out and cosplayers galore. You can get pictures with the 501st, Rebel Legion and Wolves of Mandalore(Star Wars Fan Groups), the Bay Area Ghostbusters. Oh, and yes there will be a Cosplay Contest this year hosted by the NorCal Cosies. So dress up in your best costume and come on out.
Proceeds will once again go to Make-a-Wish, last year they raised $5850 and they hope to raise as much or more again this year.
Ohana Con the family that brought us Turlock Comic-Con has been super busy this year producing Cons all over NorCal. On November 19th they will be returning to the Foothills for Sonora Con at the Mother Lode Fairgrounds. Tickets are $5 and kids under 12 are FREE. Expect lots of geeky and comic vendors, artists and cosplayers. NorCal Cosies will be there once again hosting the Cosplay Contest. A ton of fun packed into a little con.
Make sure you mark your Calendar for Central Valley Con December 17th at the Modesto Center Plaza and NorCal Cosies at the West Side Theatre January 13th. Check out 
www.norcalcosies.com
 for a complete list of Northern California Conventions.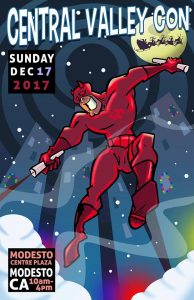 Comments
comments
Middagh Goodwin LIVES Music. He has been booking and promoting Music, Art and Comedy for years in the Central Valley. He ran the award winning Plea for Peace Center in Stockton for 5 Years and has booked bands from A-Z. Middagh is beginning 2016 with a new position at the Gallo Center for the Arts and celebrating Beat Happy! Music's 30th Anniversary. Read the MAMAView every month and a the Needle Drop 52 Records 52 Weeks.