BrewView: Pumpkin Spice Sweetness
by Brandilyn Brown and Christopher Mitchell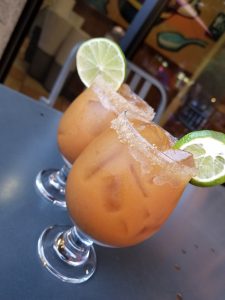 BrewView Pumpkin Spice Sweetness
by Brandilyn Brown and Christopher Mitchell
We knew it would only be a matter of time before the words "pumpkin" and "spice" came before "cocktail" and that time is now! Our friends at Fuzio Universal Bistro created a new drink specifically for  the Downtown Sampler in October, and it is still here for a very limited time only. Once the ingredients are gone so is this delectable delight! It is the most delicious pumpkin spice ANYTHING you will consume this month: Pumpkin Spice Margarita! It is a soft blend of Camarena and Triple sec with a luscious combination of special ingredients, encased in a brown sugar rim, yum! This is not your typical margarita, this will complete your obsession of pumpkin pie, pumpkin ice cream, and pumpkin coffee.  You'll want it to be 5 o'clock all the time once you have one. Get one quickly before they are gone forever!
Fuzio Universal Bistro
1020 10th St Suite 100, Modesto, CA
Follow them on facebook for specials, and check out their incredible lunch menu!
Comments
comments
Bring on the rain, and a bottle of Wonky & Wry's Honey Braggot Ale. Loves to roast marshmallows over a fire. Enjoys the mix of cigars and whiskey.