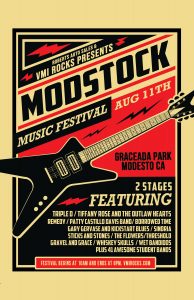 Join Darin Morris and the Valley Music Institute for the 9th Annual ModStock at Graceada Park on Sunday, August 11th. This incredible event brings together 55 different acts on two stages for one awesome day of local music. ModStock takes place between 10 am and 8 pm and is Free to attend. Featuring 41 student bands performing alongside 14 of the areas hardest working and most popular bands including seven Modesto Area Music Award Winners, Threshold, Rob Hill Band, The Flowers, Tiffany Rose & the Outlaw Hearts, Triple D, Patty Castillo Davis and Sindria. No wonder ModStock has won a MAMA three times for Best Event. Throw in dozens of vendors and a bounce house and you have a day of peace, love and music. Check out www.vmirocks.com for more information.
Modstock community bands
10:00 Wet Bandidos
10:40 Borrowed Time
11:20 Gravel and Grace
12:00 Remedy
12:40 Patty Castillo Davis Band
1:20 Rob Hill band
2:00 Sticks and Stones
2:40 Gary Gervase and Kickstart Blues 
3:20 Threshold 
4:00 Tiffany Rose and the Outlaw Hearts
4:40 Whiskey Skulls
5:20 Triple D
6:00 The Flowers
6:40 Sindria
41 student bands from 945 until 8 PM including the following:
Nightfall
Generation Gap
Silver Scrubs 
Rebel G
Miss Music and the Goblin Boys 
Jaw Droppers
Hot Sauce Popsicle 
TKO
Plush
Undiscovered Art
Toledo
Heralds of Doom
Crimson Flare
Something Different 
Playroom 
Out of Control 
Bad Reputation 
Zero Gravity 
JMCAB
Norwegian Experience 
Funkhaus 
Quick Decision
Not All Right 
Oregano Joes
Float On!
Identify Us 
Tax Evasion 
Forced Association
Hazy Shade
The Unknown 
Big sista and the Peng-Juan's
Lack of awareness
Electric Boogaloo 
Chaos Rockers
Middagh Goodwin LIVES Music. He has been booking and promoting Music, Art and Comedy for years in the Central Valley. He ran the award winning Plea for Peace Center in Stockton for 5 Years and has booked bands from A-Z. Middagh is beginning 2016 with a new position at the Gallo Center for the Arts and celebrating Beat Happy! Music's 30th Anniversary. Read the MAMAView every month and a the Needle Drop 52 Records 52 Weeks.