GoDowntown: It's Been A Hard Days Night
It has been a hard two years but music is coming back and so is the Benefit for CASA this year featuring the music of The Beatles. Let's all come together on April 1st at 7 pm at the State Theatre and twist and shout as The Vibe, Third Party and a cavalcade of local Allstars perform the hits of the Beatles and other Beatles songs they like. I've got a feeling that for only $10 tickets to this event are going to go fast, so don't let me down, grab yours at the box office or online at www.thestate.org.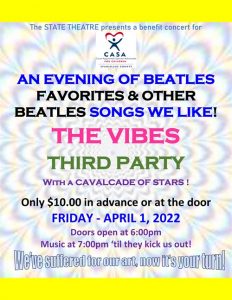 Middagh Goodwin LIVES Music. He has been booking and promoting Music, Art, and Comedy in the Central Valley for years. He ran the award-winning Plea for Peace Center in Stockton for 5 Years and has booked bands from A-Z. In addition, he is the managing editor of ModestoView and writes the MAMAView and GeekView. Middagh works with the Modesto Area Music Association and books Music in the Plaza. In addition, he owns and operates Graffiti-Con, where cars and pop culture intersects. More recently, Middagh has been working with the Graffiti USA Classic Car Museum, helping to create unique events that help raise funds and awareness of the museum and its mission. On top of that, you can tune into one of two shows that Middagh Goodwin hosts on KCBP 95.5 FM; This is SKA and MAMA Radio.