"Chitty Chitty Bang Bang" Comes to the Graffiti Museum on April 2nd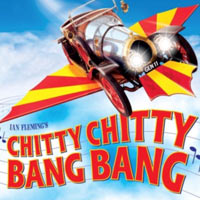 MODESTO, CA (March 28 2022) – We all know and love the classic 1968 film Chitty Chitty Bang Bang, but we cannot wait to see it performed LIVE by Modesto Christian Performing Arts at the Gallo Center on April 8th.
The Modesto Graffiti USA Museum is proud to host one of the story's most magical and whacky inventions – a Chitty Chitty Bang Bang car! The car, which will be used and featured in the live action play, will be on site for all to see on Saturday April 2nd at 1:00 PM at the museum.
This model of Chitty Chitty Bang Bang was built by Brad Egginton and is 14 feet long, 6 feet wide, with a valve board compressor that lifts her 14-15 inches off the ground when she "flies"!
With cake, balloons, and souvenirs, we are excited to host this FREE event to the public and welcome those who know and love Chitty Chitty Bang Bang to come by and see the whimsical invention up close on April 2nd.
"We are so excited to showcase exciting cars like this at the Graffiti USA Museum and we appreciate the opportunity to be a part promoting this great show at the Gallo Center", explains Chris Murphy, board member for the Graffiti USA Museum.  "We celebrate our love of the automobile and Modesto's place in car history" he continues.
We will see you there and hope you also attend the performance on April 8th.
Graffiti Museum event is free and open to the public on April 2nd!
Photos of the vehicle and interviews are available for this one-of-a-kind event.
For the live performance on April 8th, you can purchase tickets at www.tickets.galloarts.org
For more information about the Graffiti USA Museum, www.graffitiusamuseum.com
Graffiti USA Museum | 610 N. 9th Street Modesto, CA 95350 | info@graffitiusamuseum.com
Chris Murphy is the President and CEO of Sierra Pacific Warehouse Group and Publisher and Founder of ModestoView Inc. Chris worked globally in the cycling industry returning to Modesto in 1996. He is also the founder of the Modesto Historic Graffiti Cruise Route, Legends of the Cruise Walk of Fame, Modesto Rockin' Holiday, the Modesto Music History Organization and co-founder of the Modesto Area Music Association. Chris is married to his artist wife Rebecca since 1985 and has two daughters Madison and Abigail, both graduating from Modesto High and UC Berkeley. He is lead singer and guitarist for his band, Third Party that donates their performances to non-profits.