GoModesto: David Bowie Tribute

There will be only seven nights of Rockin Holiday this year starting December 7th, and you won't want to miss any of them. Saying that make sure to mark your calendar, on December 14th, the Men Who Fell to Earth, Northern California premier David Bowie Tribute band will be performing in the 10th Street Plaza. They will be playing songs from Space Oddity('69) through Under Pressure('82). The group includes notable locals Kelly Foley on vocals, Steven Fox on drums and Jim Sampson on guitar from Broken Toys, Bobbin Holley vocals/percussionist of Washboard Monkeys, John Wise of Mystic Moon on Keyboards to name just a few of the talented players. Come out early grab a spot on one of the great patios, Ralston's Goat, Fuzio or Graffiti Dogs and make sure you get your picture with Santa and the Elves.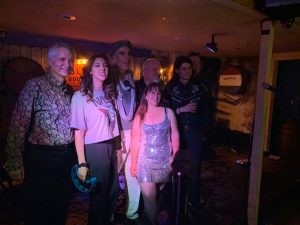 Comments
comments
Middagh Goodwin LIVES Music. He has been booking and promoting Music, Art and Comedy for years in the Central Valley. He ran the award winning Plea for Peace Center in Stockton for 5 Years and has booked bands from A-Z. Middagh is beginning 2016 with a new position at the Gallo Center for the Arts and celebrating Beat Happy! Music's 30th Anniversary. Read the MAMAView every month and a the Needle Drop 52 Records 52 Weeks.