GoModesto: ModStock goes Virtual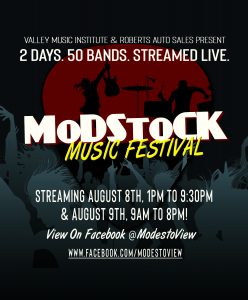 Somebody Scream! This year ModStock sponsored by Robert's Automotive celebrates ten years. Normally Darin Morris's VMI School of Rock would host the event at Graceada Park on the last weekend of Summer with 50 plus youth and probands performing. This year due to the global pandemic ModStock is going virtual and will be broadcast on the ModestoView page August 8th and 9th. Most bands will be performing one at a time at the VMI building with others streaming remotely. For a full list of bands and set times check out the ModestoView Facebook event page. 
VMI Bands
Tabora
Pistols and Petunias
Zero Gravity
Indie Daze
Out of Control
Sweet Heat
Not All Right
Jawdroppers
Pure Pressure
The Blank Slates
Undiscovered Art
Duck Meat
Epic Gamer Club
Hazy Shade
Punch Face Champions
Regal Beagles
Miss Music and The Goblin Boys
Identify Us
Norwegian
The Flaming Swords
The Beats
Covid Summer
Sound Complaint
Twentieth Century Fox
The Fringe
Playroom
Tax Evasion
Double Doctor
Doc Rock
meta banana
Kid Row
Wifi
Rocklyn
Band Of All Trades
Funkhaus
ModPod
Bad Reputation
Something Different
The Unknown
Float On!
Oregano Joes

The Area's Very Best Pro Bands
Gravel and Grace
Gary Gervase and Kickstart Blues
The Wet Bandidos
The Patty Castillo Davis Group
M!DDLEROAD
Sindria
Sticks and Stones
The Rob Hill Band
True South
Whiskey Skulls
Triple D
Middagh Goodwin LIVES Music. He has been booking and promoting Music, Art and Comedy for years in the Central Valley. He ran the award winning Plea for Peace Center in Stockton for 5 Years and has booked bands from A-Z. Middagh is beginning 2016 with a new position at the Gallo Center for the Arts and celebrating Beat Happy! Music's 30th Anniversary. Read the MAMAView every month and a the Needle Drop 52 Records 52 Weeks.