Go Modesto-This is SKA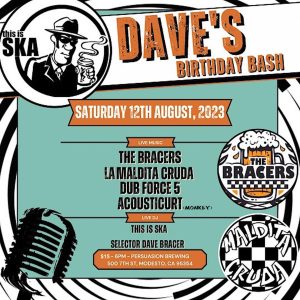 Hey you, don't watch that, Watch this! This is the heavy heavy monster sound,  The nuttiest sound around, So if you've come in off the street, And you're beginning to feel the heat, Well listen, buster, You better start to move your feet, To the rockinest, rock-steady beat!

On August 12th come out for an offbeat night of music and celebrate Dave Bracers' birthday with a live Dj set by This is SKA with Middagh Goodwin, and see Maldita Cruda(Latin Ska-Punk from San Jose), The Bracers, AcoustiCurt(singer-guitarist for Monkey), and Modesto's own DubForce5(Reggae/Dub/Ska)performing live. 6-10 pm Persuasion Brewing 500 7th Street, Modesto. $15 at the door. 
Middagh Goodwin LIVES Music. He has been booking and promoting Music, Art, and Comedy in the Central Valley for years. He ran the award-winning Plea for Peace Center in Stockton for 5 Years and has booked bands from A-Z. In addition, he is the managing editor of ModestoView and writes the MAMAView and GeekView. Middagh works with the Modesto Area Music Association and books Music in the Plaza. In addition, he owns and operates Graffiti-Con, where cars and pop culture intersects. More recently, Middagh has been working with the Graffiti USA Classic Car Museum, helping to create unique events that help raise funds and awareness of the museum and its mission. On top of that, you can tune into one of two shows that Middagh Goodwin hosts on KCBP 95.5 FM; This is SKA and MAMA Radio.