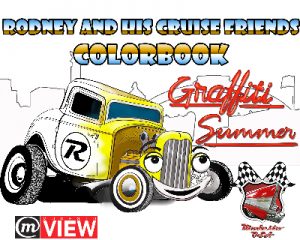 Hey Modesto Graffiti Fans,
Here is a really fun way to celebrate Modesto's American Graffiti Heritage and help teach the kids in our community how cool we are.
We introduce to you Rodney, Tina, Chuck and many more of their friends as they get ready to go cruise.   This has all the fun of Disney's Cars, but these are the cars that cruised the streets of Modesto back in 1962.
So get your coloring crayons, your sharpies, colored pencils and get ready to cruise with the Modesto Graffiti USA friends and enjoy our classic care culture.  Yes, this is Modesto USA and we are a 'Classic American City"
Thanks to Artist and designed Michael J Mangano and Chris Murphy for this coloring book.  Please take time to share this with your friends of all ages.  Thank you.
Modesto Graffiti Coloring Book
Comments
comments
Chris Murphy is the President and CEO of Sierra Pacific Warehouse Group and Publisher and Founder of ModestoView Inc. Chris worked globally in the cycling industry returning to Modesto in 1996. He is also the founder of the Modesto Historic Graffiti Cruise Route, Legends of the Cruise Walk of Fame, Modesto Rockin' Holiday, the Modesto Music History Organization and co-founder of the Modesto Area Music Association. Chris is married to his artist wife Rebecca since 1985 and has two daughters Madison and Abigail, both graduating from Modesto High and UC Berkeley. He is lead singer and guitarist for his band, Third Party that donates their performances to non-profits.