MAMAView: Growing up in the Eighties in Two Zero Nine
By Middagh Goodwin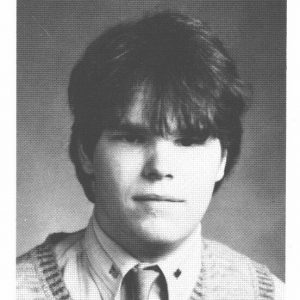 Moving to a town that only had 8 exits off the Freeway(what kind of cultural wasteland was my parents moving us to) was a pretty big shock for a teenager from LA(and what classic 80 movie plots seemed to be all about.) What did this "hick town" have to offer to a Modernist Punk from the "Big City." I remember the first High School dance at Downey(yes I am a Duck) I attended the DJ had a list of bands not to play, no Bauhaus, no Cure, no Blondie, not even the B-52's. I noticed in a box a 7″ a band that wasn't on the list The Dead Kennedys so I had him play "Holiday in Cambodia"(a small win for my rebellious soul.) 
      I was a stranger in a strange land being assaulted by Jocks and Cowboys for the clothes on my back and the way I wore my hair. Scrolling south of the dial, like I was tuning in Radio Free Europe for a glimpse of good news from the Allies. I ran across low powered stations KUOP out of Stockton, KCSS in Turlock and KALX from Berkeley playing the sounds of the Underground, the sound the man didn't want me to hear, the darker side of what was coming out around the US and Europe. Watching late-night cable and MTV gave me a visual to the audio that crackled out of my speakers. I knew there had to be others out there just like me. 
     Slowly I surrounded myself with like-minded outcasts with a common bond of music and ill-lit cafes like Cafe Decadence and Blackwater Cafe. Seeing bands perform live was a rarity especially "New Wave" and Punk bands and usually hosted at Dazzles Underground, Leonard's Artspace, pizza parlours, Vet's Halls and the YMCA along with the occasional college gig. It was in these dark rooms and basements that I heard the rumblings and rumors of local bands that would soon become a fixture in not just mine but so many others lives. These band couldn't have spawned from the 209. This was not the harvest, the bounty of the Central Valley. Yet there they were playing shows in this musical wasteland. When I would see Broken Toys, Problem Fish, The Gents, Tin Shadows, Five Fingers, IHS, Short Wave Mystery and later Chaotic Opera on a flyer it would seem to explode off the page. I knew I would be surrounded by my kind, friends that I had not made yet. By the end of the night, I would be drenched in sweat from dancing and swirling and coughing up second-hand smoke from too many cloves. This was not LA, this was not San Francisco, hell this wasn't even Athens, GA; this was the Central Valley and like an oasis in the desert, these bands gave us a reason to DANCE.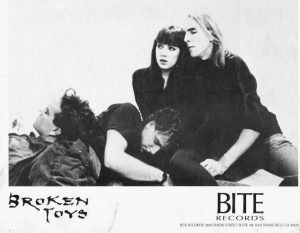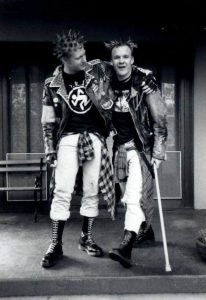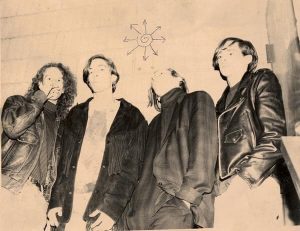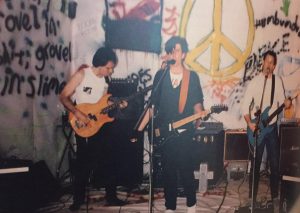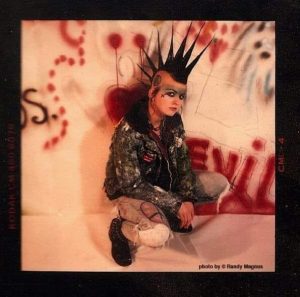 Picture of James Rowe & Shawn Brubaker by Sylvia Rowe
Picture of Tin Shadows and Marion Anderson of Five Fingers by Randy Magnus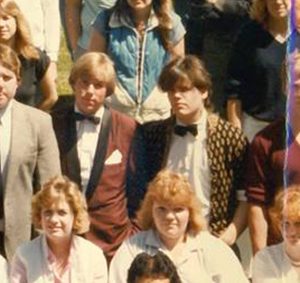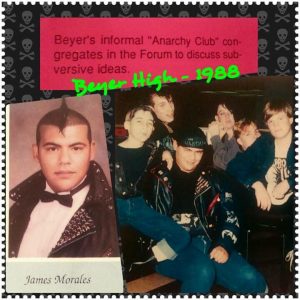 Middagh Goodwin LIVES Music. He has been booking and promoting Music, Art and Comedy for years in the Central Valley. He ran the award winning Plea for Peace Center in Stockton for 5 Years and has booked bands from A-Z. Middagh is beginning 2016 with a new position at the Gallo Center for the Arts and celebrating Beat Happy! Music's 30th Anniversary. Read the MAMAView every month and a the Needle Drop 52 Records 52 Weeks.