Unplugged View: Hey Combo, Combo Italiano
by Aaron Rowan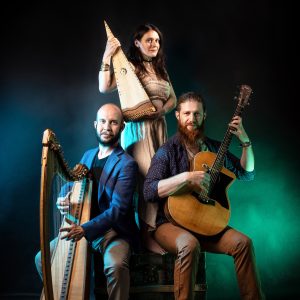 A point of pride with Modesto Unplugged is our penchant for showcasing exotic and obscure instruments, some of which I reasonably suspect have never before been heard in a concert setting in our city, nor would be were it not for our programming. There was the classically trained Chinese erhu virtuoso…..the mesmerizing hang drum duo from Germany…..the Celtic group rocking a hurdy-gurdy…..and the unforgettable Eliza Rickman – one of the most fascinating artists I've ever featured – making use of quite the spread of trinkets including a bowed glockenspiel. A year or so has passed since I last enjoyed the opportunity to present such unique instrumentation, and it's high time for another new offering.
I've partnered with the Mistlin Gallery for a special joint concert, where their Grace Lieberman Cabaret series meets my 'Songlines' world music series. On the first Sunday of this month, we'll present an afternoon with Ensemble Sangineto on tour from Italy. I've featured groups sharing the music of Italy before. Still, this trio offers a twist with a sound not quite like anything I've hosted, fusing traditional Italian & Celtic styles with classical, folk, and even some Gregorian chant. The sides of this triangle of tempo are twins Adriano & Caterina Sangineto on harp and bowed psaltery, respectively, and Jacopo Ventura on guitar and bouzouki, with all three sharing vocal duties. Italian folk tunes meet modern international flavor with charming melodies, original arrangements, delicate polyphonic vocal textures, spirited rhythms, and innovative and unpredictable use of instrumentation. This trio promises to be one of the coolest acts I'll have a hand in hosting all year. Champagne and dessert are included in the ticket price at the Cabaret series: Sunday, May 7 at 2 PM, $40 general admission.
Keeping with the world-music theme, the Modesto Symphony Orchestra concludes its classical season with two nights of Mozart's 'Requiem' followed by American composer Florence Price's Symphony #3. The last piece celebrates the composer's heritage, combining jazz, blues, and ragtime influence. The third movement is based on a dance style developed by central Africans enslaved on plantations in the South. May 12 & 13 at 7:30pm at the Gallo Center. Tickets start at $19. I've neglected to see an MSO concert for a while, but there's nothing quite like that fully satisfying symphonic sound, and this double feature is one to look forward to. See you next month with more news of the finest original songwriting and world music coming downtown. Intimate performances. Infinite playlist. MODESTO UNPLUGGED. www.modestounplugged.com.