Art View Holiday Shopping
By Jim Christiansen
Holiday shopping is in full swing this month. Art Walk comes up 10 days before Christmas on December 15, and I'll be one of the Artists with a table at Mistlin Gallery with wine frogs, coffee cats, calendars for sale, along with other local CCAA member Artists. All the art walk venues have holiday gift items, so a good night to support local artists. Local galleries are open until December 23. Dragonfly Art for Life, Chartreuse Muse and Mistlin Gallery have gift certificates, classes and gift items large and small. The Chartreuse Muse is open Sundays during the season, noon to 5. Various crafter and artist pop-up events will show up on Facebook and Instagram. Downtown venues like Intrinsic Elements, Beads of Contentment and Picasso's Gourmet Deli and Gallery are also open.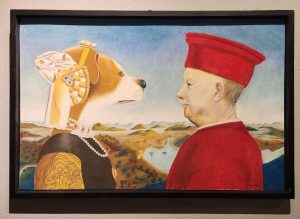 Pets and Portraits is the featured show at Gallery B of Mistlin Gallery, with a full menagerie of local art, and pets as the theme of the gift shop items featured. This is the Holiday member's show. Special project Six by Six is the Community Interactive Mistlin Gallery fundraiser project on display in Gallery A. Gallery Members, kids, students, and community members all contributed over 300 six inches by six-inch art pieces of all types for sale at $36 each. Various media include photographs, paintings, collages, mosaics, mixed media, and digital art, all compact art pieces that can be displayed near anywhere. And community can contribute more pieces during the show and add to the display as panels sell. Community enthusiasm for the project has been outstanding. A thank you to Vicki Reid, show chairman who is moving to Sacramento for the idea.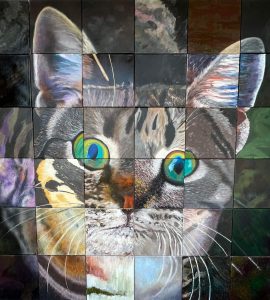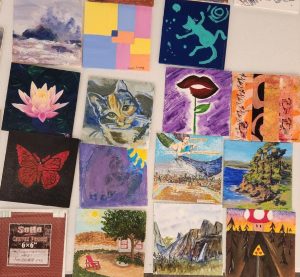 The Artfully Yours subscription collections project will debut with six-month subscriptions this month at the Chartreuse Muse. Look for the offerings in the center counter display area. Artfully Yours is a monthly subscription delivering a mini masterpiece each month to its recipient. Each limited-edition collection is a menagerie of regional, award-winning and collected fine art artists with work ranging from drawing and painting to mixed media and clay. This is an excellent gift for an avid collector or a way of introducing someone to the joy of original art. The completed collection displayed in the provided wall-hung frame measures 12 inches high by 15 inches high and 3 inches deep. There are only 25 collections in this limited edition and is only available at the Chartreuse Muse. More information at TheChartreuseMuse.com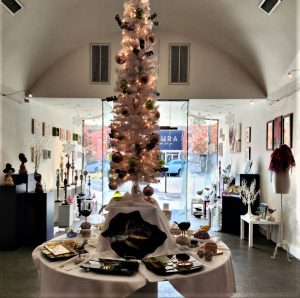 Over at Modesto Junior College, a new mural going up in the Art Department in the style of Klimt. Across the Street at the Kruse-Lucas Gallery on Tully, Rick Ingraham is the featured artist. Peer Recovery Art Project having a sale on member art.
Need a calendar for the new year? you can find mine at coffeecatscalendar.com or the in-print gallery edition at Mistlin Gallery and Chartreuse Muse.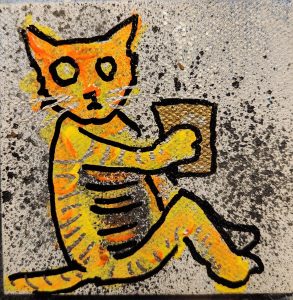 For late Art Shoppers, travel down to Carnegie Arts Center, open until 2 PM on Christmas Eve. December 9, Carnegie offers the Holiday Pajama Party, featuring the film Elf. December 10, Families can drop in between 11 AM and 2 PM to make a colorful winter landscape. $5 per maker, or $3 if a Carnegie member. Carnegie Arts Center does have a gift shop. Current Shows are Stitching California, a Fiber Artists show in the Ferrari Gallery and California Dreaming in the Lobby Galleries
Jim Christiansen, award winning watercolor artist, cartoonist and member of many art groups moved to Modesto in 1977. Born in Riverside, California, and attended University of California, Riverside. Jim often shows around Modesto, does a poster or two, and has been host of the art walk events at State Theatre and Jax on H. Jim has been writing the art notes column several years for Modesto View.