Irish Food & Drink View
By Chris Murphy
St. Patrick's Day falls on a Wednesday this year.  It was this time last year that COVID took center stage and literally shut our community down over two to three days.  This year, it will be a different kind of St. Patrick's Day where most people will be doing their own personal celebration.     Roman Wagner, proprietor of P. Wexford's and the award-winning St. Patrick's Celebration looking forward to when the annual MAMA Award-winning big party can return, but in the meantime, all of your Irish favorites will be on deck.   We are even hoping to be treated to bagpipe music while we get our bangers and mash, with a Black and Tan, or even a pint of Murphy's.  Count me among the hopeful for that.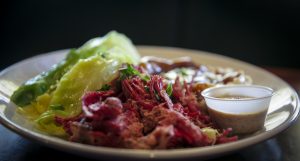 We live in a place that is surrounded by the most amazing farm to fork tastes and the freshest of everything.  BUT, this month we turn our eyes toward the great island in the north Atlantic that makes the world turn green with luck. The luck of the Irish.  As a Murphy, this is part of our family culture and the camaraderie, the history and the traditions of Irish food ring true here in Modesto.  
For the record, everyone is an honorary Irish person on St. Patrick's Day, celebrating that legend of eliminating the snakes from Ireland with a pint of Guinness, some Irish Whiskey and corned beef and cabbage.  The beef was an upgrade from the ham and bacon for the Irish immigrants arriving in the US and cabbage was literally the cheapest vegetable available. Hence the meal we enjoy today.  Let's do this.  
On the cocktail side, there is ONE gold standard for Irish Coffee and it is the Buena Vista in San Francisco, where legend has it, the Irish Coffee was actually invented.  If you haven't been there to try it, you need to.  So who has taken the true tradition seriously and who is riffing on the coffee? 
St. Patrick's will be much different this year.  Last year, the doors were closing on the 17th of May with the spread of COVID.  This year instead of the big parties, many of our local watering holes and restaurants will be doing Irish fare for the WEEK of St. Patrick's Day.   I think this is a great trend.   We need to have a St. Patrick's season. Who's with me?  Let's check out the local scoop.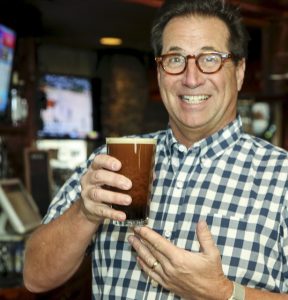 P Wexford's
This is the home base for Modesto's St. Patrick's Day and Irish fare in general.  Not to say that other places don't step up, but P. Wexford's lives this all year long.  Corned Beef and Cabbage is on the menu 365 days a year, and a Black and Tan is on deck all of the time.   It is fun to be able to enjoy the Irish pub life all the time, with music inside and out, and even Murphy's on tap during March.   St. Patrick's Day starts early with Irish breakfast and lunch and continues through the evening.   The annual party will not be happening, but patio dining and music and more will be featured along with the amazing food as well as bagpipes and live music.  You can always get an Irish Coffee and a pub meal and if you have not had any of this, you should try it this month.   @PWexfords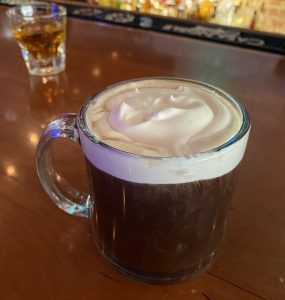 Ralston's Goat
So far, Ralston's Goat has taken the Buena Vista version of the Irish Coffee the most seriously.  I can attest that hours were spent, working on the right blend to make it memorable.   Meticulously prepared with Irish Whiskey, Sugar Cube, Coffee and FRESH whipped cream, this is pure and simple and amazing and the whip cream treatment has sometimes taken a life of its own.  Alas, over the last few months, the Goat has been closed, but talking to Mike Shelton and bartender Jenn Allsup, there could be an opening soon. Stay tuned at @ralstonsgoat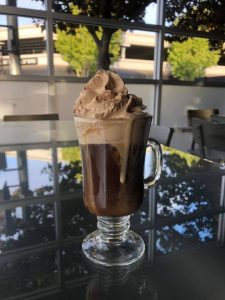 Boardroom
We have encountered one of the most beautiful custom Irish Coffees.   Master Bartended David Eclevia has created some serious deliciousness with a blend of coffee-infused whipped cream. David and Ryan promise some Irish specials for St. Patrick's week so keep your eyes peeled at @theboardroom209
Fuzio
Thomas Lopes and the crew are getting into the whole St. Patrick's Week. Thomas told us, "We make our corned beef and turn them into these epic sandwiches.  We will run them the entire week of St Patty's".  They are planning corned beef sandwich specials and other surprises on one of Modesto's best patio set ups. Their day in and day out Irish Coffee will make you warm and happy.    @fuziobistro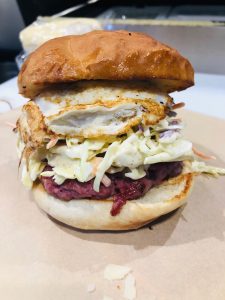 Bauer's Downtown
Tye Bauer is all in for St. Patrick's Day.   I know he is probably already prepping his corned beef that most surely will make it into his famous burger.  This is a great way to enjoy this brined meat and with his relishes and dressings, this will be an immediate favorite.  Look for specials all week and you can get a special treat on St. Patrick's Day as Tye takes over food duties at Grains of Virtue in Oakdale on the 17th and will be featuring his corned beef specials.  When I asked him about it, he said,  "I am always Irish food doing! Lol.  We will Be out at grains of virtue doing a whole Irish menu We also have our own version of corned beef and cabbage and of course the beloved 317 burgers ground corned beef burger with the slaw you love so much with Irish cheddar cheese".   Are you drooling yet? 
Check out @8229thstreetmodestoca
Food Fix
You know it is going to be good with Hank Olsen and the Food Fix team.  It is already planning a special menu, and Ashley is working up her specialities as well.    I asked him what was coming up and he said,  "Yeah we are going to do our Corned Beast,
Beer-Braised Corned Pork, Horse Radish, 1000 Island, House Cured Sauerkraut, on our Fresh Baked Pretzel Roll.  Also Irish Themed cookies and desserts".
Do I need to go on?  You know what to do.   Check them out at @foodfixbutherandbaker
Galletto Ristorante
The crew at Galletto are planning an entire St. Patrick's feast.    This is going to run from the beginning of the meal all the way to the end.  You can also get this dinner to go, but the patio set up at Galletto is one of the best in town. Bagpipe music will be featured as well so you can get your total Irish  When we asked about why they are featuring this, they said "Ten years ago Tom Gallo, Sid Long, and Don Agresti started a delicious celebration blending Tom's Irish and Italian heritage.  With the traditions passed on to us from Sid Long (1936-2019) and Don Agresti (1937-2014). We will be serving corned beef and cabbage (Sid's secret recipe), Irish potatoes, vegetables, and family-style pesto pasta (Don's speciality).   Made with love in honor of these great men. 
You can't go wrong.  Stay tuned at @gallettoristo
Twisted Pig
Our friend Griffin Dye is ready for St. Patrick's day at the Twisted Pig.  This will be part of the all-day hangout series with specials starting at 11 am.   Griffin told us what is up, "
We are celebrating on Wednesday this year with Corned Beef hash breakfast from 10-11 am and all-day Irish Whiskey Drink Specials, Irish Coffee with smoked whipped cream with a special Irish Fare menu.  You can ennui all day on our outdoor bar and patio."  Check it out at @twistedpigbarandgrill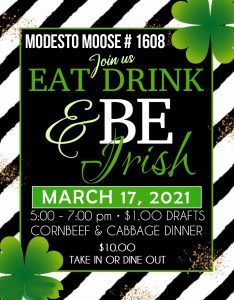 The Moose is Loose!
The Modesto Moose Lodge is doing it up and even if you are not a Moose member, you can enjoy a great St. Patrick's feast that you can enjoy and even take it home.   Get a full Irish dinner for $10 and pints are $ 1.  You really can't beat that.   Check out the Moose Lodge at Modesto Moose Lodge 1608
@TheVillageButcher209 will have plenty of house-made Corned Beef, Beer Brats, Whiskey Brats and more all St. Patrick's week.  Follow them for more info!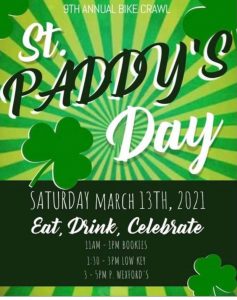 And if you want to get the season started off with a great outdoor sport, try the St. Patrick's Bike Crawl that will go from Bookies to Low Key to P. Wexford's.  So much fun beginning at 11 am.
These are just a few of the great options for this special day.  It may not be the big celebrations we are used to, but take the time to do what you can, celebrate safely and support our local business that are trying to make it thought these tough times.   We could all use a little luck of the Irish as we make our way through this together. 
Erin Go Bragh!
We will post more when we learn about it so stay tuned to @modestoview on Facebook, Twitter, and Instagram and www.modestoview.com
Chris Murphy is the President and CEO of Sierra Pacific Warehouse Group and Publisher and Founder of ModestoView Inc. Chris worked globally in the cycling industry returning to Modesto in 1996. He is also the founder of the Modesto Historic Graffiti Cruise Route, Legends of the Cruise Walk of Fame, Modesto Rockin' Holiday, the Modesto Music History Organization and co-founder of the Modesto Area Music Association. Chris is married to his artist wife Rebecca since 1985 and has two daughters Madison and Abigail, both graduating from Modesto High and UC Berkeley. He is lead singer and guitarist for his band, Third Party that donates their performances to non-profits.