JavaView: National Coffee Month
By Middagh Goodwin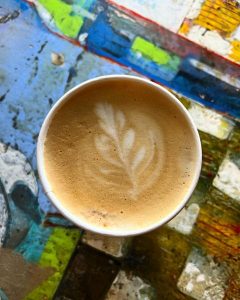 August is National Coffee Month and if you are like me, you start your day off with a cup of coffee, I am and have been a serious coffee drinker my entire life, I buy whole beans and grind fresh daily(no Folger's Crystals for me). Back in the nineties when friends would be out at the bars drinking I would be at a coffee shop(even going on trips to find cool cafes around the region.) I am even part of a rock n' roll coffee-drinking gang(let's call it a club)the US Mugs whose motto is Death Before Decaf. If I am addicted to anything it would be caffeine and music.
Those living in Modesto are pretty fortunate to have so many great locally owned cafes to choose from.
The iconic Queen Bean located at 1126 14th St, offers a very relaxing setting to enjoy your coffee drinks such as espresso & mochas plus salads, pastries & sandwiches. Check out their calendar for pop-up markets, poetry reading and acoustic jams.
Cafe Deva 1202 J St. is another gem in the middle of downtown walking distance from the State Theatre. Great caffeinated drinks along with delicious baked goods, do yourself a favor and stop in for breakfast or brunch(they offer vegetarian options). Greg Edwards has started hosting Off the Air again and we could not be happier about that.
Preservation Coffee & Tea 1030 J St. The baristas at Preservation take coffee brewing seriously, and if you do too you know what I am talking about. No blenders, no artificial flavors just great speciality drinks made with the finest ingredients. Also, one of the best spots to people watch in downtown Modesto.
Culture Coffee Bar 2801 McHenry Ave Ste A. If you are a regular at the Farmers Market you have most likely had a wonderful drink from Culture Coffee but may not know that they now have a brick and mortar cafe down McHenry. Stop by when you are out shopping or just make a special trip to check out their wonderful location and curb your java urge.
Giacomo's Espresso 525 Scenic Dr, is a wonderful little drive-thru espresso shop for people who are looking for fast, quality coffee, mochas, lattes and more. just a little off the beaten path. Great staff, and delicious drinks all at a reasonable price.
Breaking news, The Secret Garden(this month's ChefsView) 2401 E Orangeburg Ave, will be putting an espresso bar this month, so that will be something to look forward to.
If you are serious about your java like I am, stop by and order your favorite drink or be a little wild and let the barista make you something special.
Middagh Goodwin LIVES Music. He has been booking and promoting Music, Art, and Comedy in the Central Valley for years. He ran the award-winning Plea for Peace Center in Stockton for 5 Years and has booked bands from A-Z. In addition, he is the managing editor of ModestoView and writes the MAMAView and GeekView. Middagh works with the Modesto Area Music Association and books Music in the Plaza. In addition, he owns and operates Graffiti-Con, where cars and pop culture intersects. More recently, Middagh has been working with the Graffiti USA Classic Car Museum, helping to create unique events that help raise funds and awareness of the museum and its mission. On top of that, you can tune into one of two shows that Middagh Goodwin hosts on KCBP 95.5 FM; This is SKA and MAMA Radio.