GoKnights Ferry: Music Festival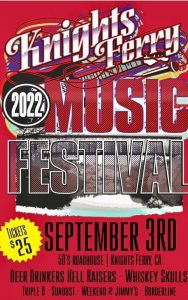 John Shaw and the guys in Whiskey Skull had so much fun last year that they are doing it again, on September 3rd out on the green next to the 50's Roadhouse don't miss the 2nd Annual Knights Ferry Music Festival. This is an all-ages hard rockin' music festival featuring Beer Drinkers & Hell Raisers a tribute to ZZTop, Whiskey Skulls, Triple D, Sundust, Weekend at Jimmy's and Borderline. Bring your lawn chairs and enjoy some great music. Tickets are just $25 with ins and out with your wristband so you can even explore the little town of Knights Ferry or stroll across the historic covered bridge(it was built in 1862-63), the second longest in the US. 
10 am – 10 pm 
11:30 am Borderline
1:00 pm Weekend at Jimmy's
2:30 pm Triple D
4:00 pm SUNDUST
5:30 pm Whiskey Skulls
7:00 pm Beer Drinkers & Hell Raisers
Middagh Goodwin LIVES Music. He has been booking and promoting Music, Art, and Comedy in the Central Valley for years. He ran the award-winning Plea for Peace Center in Stockton for 5 Years and has booked bands from A-Z. In addition, he is the managing editor of ModestoView and writes the MAMAView and GeekView. Middagh works with the Modesto Area Music Association and books Music in the Plaza. In addition, he owns and operates Graffiti-Con, where cars and pop culture intersects. More recently, Middagh has been working with the Graffiti USA Classic Car Museum, helping to create unique events that help raise funds and awareness of the museum and its mission. On top of that, you can tune into one of two shows that Middagh Goodwin hosts on KCBP 95.5 FM; This is SKA and MAMA Radio.