MAMAView: Halee Smith Rockit Music Gear
by Middagh Goodwin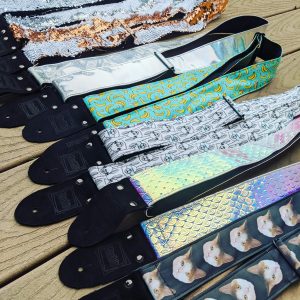 This month I wanted to introduce a wider audience to Halee Smith and her homegrown business Rockit Music Gear. You may have seen Doug Robinett rocking one of her LED guitar straps at the Modesto Area Music Awards or even picked up a custom strap at last year's ModStock.
Please introduce yourself? Halee Smith
What is your Home Base? Modesto, CA
What do you do?
A big variety of things. I build electronics/solder electronics also help with programming and coding for my dad's business, build lightsabers for fun, build whatever other crazy ideas are on my mind! Build guitar straps mostly for work, Run/update RMG. It's mainly a one-person run thing. But my dad helps me quite a bit too, from event setups, building product when I get crazy busy, he was a huge help at NAMM. The list goes on with what he does for RMG. Zoe and Edie from the Not All Right Band help with local pop events and assembling. I love that they want to get involved and I appreciate their help a ton. I also try to help the local bands and play gigs around here as much as I can.
What is your Story?
I was born and raised in Modesto, I'm 22 years old, I'm the owner of a currently small music gear company I named Rockit Music Gear that I started up myself because of my passion and love for music and creating. I've been playing guitar for 11 years now. I've been helping behind the scenes of the Modesto music scene since I was 13 so 9 years.
What are you Passionate About?
Guitar playing, Music, Building things. Growing my business Rockit Music Gear.
How did you know this is what you wanted to do?
Honestly, I'm just running with my passions and this is where they have been leading me, I see myself doing multiple things always. The only thing I've known I've ever wanted to do was/is that's stuck with me for a while is to be a guitar player, but I also really have a passion for building things. I've gotten great opportunities I would have never thought of because I have a variety of things I love/do, So I hope I can continue with my passions, make a living and continue getting opportunities. So I'd say that's exactly what I want to do.
What inspired you to start Rockit Music Gear?
So, this kind of a weird time jumpy story.
I made a LED guitar strap for my guitar teacher and I In 2014? I want to say after we brought up an idea concept of a strap that could be any color. I've always been a builder/creative-type person. So I said I could do that, made it, it was super cool. He thought it was killer, showed his friends and said I needed to sell them. So here was the LED strap before the company. I had no company at the time and stopped making them do to the time-consuming process and cost to make them. I knew I wanted to bring back the LED strap and make it Less complex, quicker to build and a better design. So it honestly daunted me forever and I constantly picked it up and put it down between 2014-2019. So fast forward to December 2017 I decided/came up with the idea to launch RMG and started out with some sparkle straps and slowly built a bigger variety of straps since. But it wasn't till October 2019 I officially released the LED strap with a design I was happy with. But I also feel RMG is not just a strap company. I promote, support, get local Musicians involved, support the Musicians from afar. It's turning into something I haven't quite been able to pinpoint it just yet. It's definitely different from your average company and I'm happy with what it is evolving too.
Projects or accomplishments? Time to brag.
I've made about 300+ guitar straps since I started and they are all over the world! I've had some pretty cool people rock my straps and or work with. Daniel Donato (check him out) who's this super talented (also a cool and genuine person) Nashville Telecaster player sports my RMG straps. I got to meet him at NAMM for the first time after working for with him for quite a while and he used the LED strap at this huge Fender new guitar release event called Jamm card, That I got to go to as well! All my straps are on his tour currently. Speaking of NAMM that was quite a highlight and a head exploding experience. I met so many cool people and made friends with people who I'll be working on some upcoming projects with that I can't wait to share about! I've got quite a few projects in the works always though from advancing RMG, With the new star wars movie out there's a list of projects I want to build. Ha! But I am working on a pretty cool top-secret project/product for RMG at the moment.
What is next for you?
Nashville and or if some crazy reason I happen to afford a big project I'm building a millennium falcon and going to make it a house to live in. Not kidding.
Where can we find you?
Well if you are wanting to see me play I'd probably be around with the local bands like Triple D, Bangarang, Not All Right Band, The Good Ones, Blue Monday band, and Johnny and Kelly.
But like if you wanna follow me on Instagram, Facebook or YouTube. to see my projects and things I'm working on.
Instagram: @haleethings
Facebook.com/haleethings
Rockit Music Gear's
Facebook, Instagram, YouTube is @rockitmusicgear
Website: www.rockitmusicgear.com for more details
Etsy shop: www.etsy.com/shop/rockitmusicgear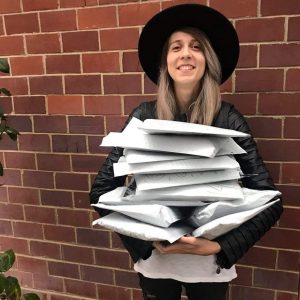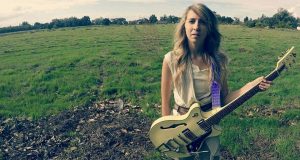 Middagh Goodwin LIVES Music. He has been booking and promoting Music, Art, and Comedy in the Central Valley for years. He ran the award-winning Plea for Peace Center in Stockton for 5 Years and has booked bands from A-Z. In addition, he is the managing editor of ModestoView and writes the MAMAView and GeekView. Middagh works with the Modesto Area Music Association and books Music in the Plaza. In addition, he owns and operates Graffiti-Con, where cars and pop culture intersects. More recently, Middagh has been working with the Graffiti USA Classic Car Museum, helping to create unique events that help raise funds and awareness of the museum and its mission. On top of that, you can tune into one of two shows that Middagh Goodwin hosts on KCBP 95.5 FM; This is SKA and MAMA Radio.