MAMAView: Life Sheltered in Place
By Middagh Goodwin
First off I can not believe no one messaged me about my profile picture in the magazine last month? It was a picture of Jack Black not me, a little April Fools prank or Easter egg if you will.
I am not sure about you but I have been enjoying all the videos and live streams by musicians not just in our area but from around the world. I even did a "Quarantine" episode of my radio show This is SKA on KCBP 95.5 FM, where all the music was from live video, zoom performances or recorded in separate locations and mixed while sheltered in place. Speaking of radio shows I am the host of Modesto Area Music Radio that airs on Monday nights at 5 pm on KCBP and I am always looking for new songs to debut, email music to mamarecords209@gmail.com for consideration. Last month I debut new songs by The Flowers, Us4Love, Gravel & Grace, Klooster, and more.
Speaking of live streaming MAMA Virtual Live will continue to bring you great live music at 6 pm broadcast from the ModestoView Facebook page through May. Check the listing in the calendar section or on the event page. We have a fantastic line up for the month and if needed we will keep it going until things get back to a sense of normality.
Music in the Plaza was supposed to kick off on May 1st but will be postponed until we can all gather in public again. It is important that we keep the curve flatten and not put each other at risk of infection. We have our fingers crossed that we can hear the music ring out in downtown by the first part of June.
Porchfest has been reimagined as couchfest and will take place over the weekend of May 2nd and 3rd. ModestoView is hosting Patty Castillo Davis, Adam Bishop, Stevie Vasquez, and Chris Murphy and Friends on Saturday, with Dominic Del Curto, Neil Buettner, and Us4Love streaming on Sunday. Check out modestoporchfest.com for a full list of artists and streaming locations. Please when you are watching these live streams and throw a virtual buck or two into the tip jar if you are able.
The past few years I have enjoyed booking the local stage at the Stanislaus County Fair as well as all the bands at Modesto's PatioFest, unfortunately, both are canceled this year. I guess we will just have to make 2021 that much better. I can not wait to see you all performing live, dancing to music, and enjoying all the great entertainment the Modesto area has to offer.
#together we are stronger and #together we will get through this.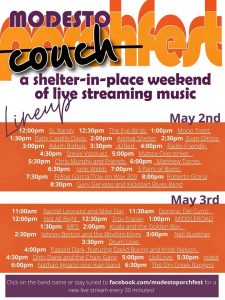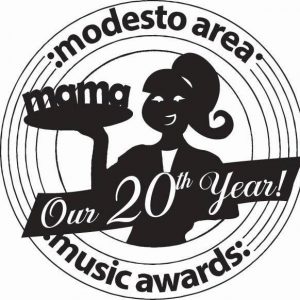 Middagh Goodwin LIVES Music. He has been booking and promoting Music, Art, and Comedy in the Central Valley for years. He ran the award-winning Plea for Peace Center in Stockton for 5 Years and has booked bands from A-Z. In addition, he is the managing editor of ModestoView and writes the MAMAView and GeekView. Middagh works with the Modesto Area Music Association and books Music in the Plaza. In addition, he owns and operates Graffiti-Con, where cars and pop culture intersects. More recently, Middagh has been working with the Graffiti USA Classic Car Museum, helping to create unique events that help raise funds and awareness of the museum and its mission. On top of that, you can tune into one of two shows that Middagh Goodwin hosts on KCBP 95.5 FM; This is SKA and MAMA Radio.