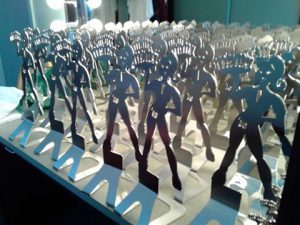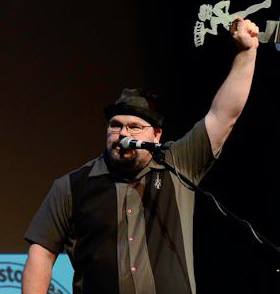 MAMAView: MAMA turns 20
By Middagh Goodwin

Can you believe it has been 20 years since Murphy and Ricci first dreamed up the idea for the Modesto Area Music Awards? The First MAMA Awards Show was hosted at Club Maxx in the year 2000, and it was packed and featured only seven categories. How things have changed and in some ways stayed the same in the last 20 years. Since the start of the MAMAs, several new categories have been added or better defined, and a few have been retired at least for the time being. With three times the categories and hundreds of nominees MAMA has become the entertainment gathering of the year.

This year the awards show is scheduled for Tuesday, October 15th and will once again take place at the historic State Theatre. We are working on some fun things to celebrate this momentous occasion. We strive every year to give the best experience possible but this year we are pulling out all the stops. Mark your calendars you will not want to miss out on this year's celebration.

If you are a promoter, event coordinator, venue owner, former MAMA winners; we want to know who you think should get mamanated this year? Which bands are stepping up and bringing crowds, new events that have exceeded expectations, a new venue that should be considered? We need your input to continue to make the awards show and process better.

But did you know that the Modesto Area Music Association is a 501c3 Non-Profit? That not only have they been raising money for music scholarships but also have helped book over a hundred gigs for bands since just last year? Curating Music in the Plaza, PatioFest, music at Stanislaus County Fair and the Sampler. Also sharing our contacts with local venues and promoters so they can book even more events. MAMAs true mission is to continue to help build and create a more vibrant entertainment community.

How can we help you? First, you need to let us know who you are and where you are performing by emailing us at events@modestoview.com we will add your shows to the calendar and at the same time have your contact information. Also, sign up for a PlinkYou.com account and like the MAMA page, you will get notified when we post gig opportunities.

Remember that music and entertainment are best experienced live and with your friends.
Middagh Goodwin LIVES Music. He has been booking and promoting Music, Art, and Comedy in the Central Valley for years. He ran the award-winning Plea for Peace Center in Stockton for 5 Years and has booked bands from A-Z. In addition, he is the managing editor of ModestoView and writes the MAMAView and GeekView. Middagh works with the Modesto Area Music Association and books Music in the Plaza. In addition, he owns and operates Graffiti-Con, where cars and pop culture intersects. More recently, Middagh has been working with the Graffiti USA Classic Car Museum, helping to create unique events that help raise funds and awareness of the museum and its mission. On top of that, you can tune into one of two shows that Middagh Goodwin hosts on KCBP 95.5 FM; This is SKA and MAMA Radio.